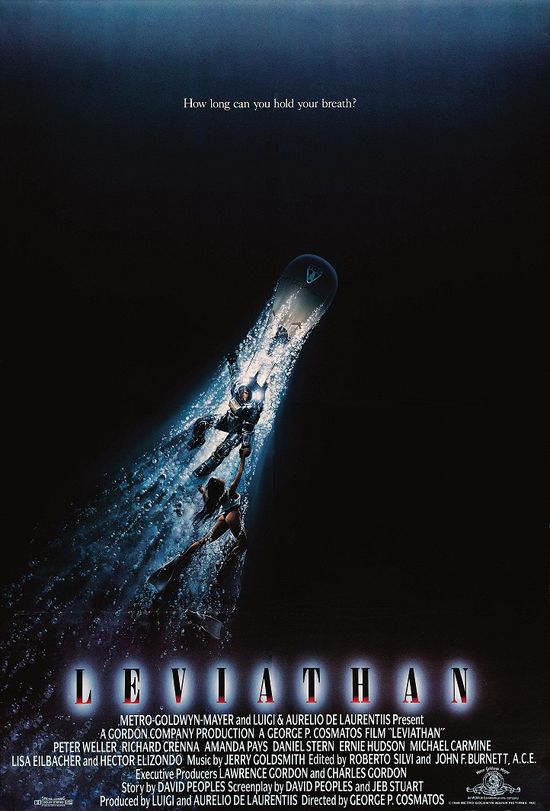 Year: 1989
Duration: 01:37:55
Directed by: George P. Cosmatos
Actors:  Peter Weller, Richard Crenna, Amanda Pays
Language: English
Country: USA
Also known as: Havets hämnare, Leviathan – O Mistério dos Oceanos, Havets hämnare, Leviathan – dödens fartyg, Leviathan – fanget i dybet, Leviathan – kuoleman laiva, Leviathan: El demonio del abismo, Levijatan
Description: During the works on mining ore at a depth of five kilometers in the Atlantic ocean, one of the technicians found a sunken Russian ship. Soon it turns out that in the ship conducted secret experiments. In the safe, brought from the ship to the underwater base miners are writing about a mysterious disease that has infected the entire crew of the ship. Soon, one of the miners died and mutates into a horrible monster Leviathan that begins to destroy every living thing on his way …
Review: Topic of dangerous creatures in a confined space with a group of people received a number of interpretations, including stories about the underwater world.
U.S. Geological oceanic station detects a submarine on the seabed. This is a Russian vessel appears to have been sunk in disputed circumstances, and not without reason. It flooded corridors to keep their secrets. Of course, after the "Abyss" Cameron any film on a similar theme hard to oppose something his famous brother. Before us is a horror film mediocre, which, however, recalls the period popularity VHS-carriers. The essence of what is happening in a unique virus, which can cause mutations and how a group of people to deal with it under layers of ocean water. What is happening on the screen are not afraid, but except for a few moments evidently failing, the film leaves its impression. Need to do a footnote in the years the release of pictures and budget. Among the cast can be seen in the popular actors of his time, but again, without revelation.
Good fantasy film, the events that occur on the sea floor in an atmosphere of fear and ignorance. Fans will be pleased with the era.
"Leviathan" is a fantastic horror movie in the spirit of "Alien" and "The Thing" and uses the concept of a standard plot: a group of people being in a confined space is struggling with a monster. In this case, a group of people a team silver miners, led by captain-geologist, a closed space – an underwater station, where they live in the period of work. Leviathan – the name of a sunken Soviet warship that accidentally discovers one of the team members and then actually begins the horror.
Basically, we got Solid film, in all respects, except it is not original. But we're not talking about plagiarism, but rather of imitation, that is, you want to remove something in the likeness of what has already been a success. Is this bad? Especially to fans of the sort. For example, I did one of these fans and I'm glad that at the time (as opposed to the present), these pictures were taken, if not regularly, pretty often. They, of course, there are different quality, there are also far too pinched to the "pioneers", and to whip up, and there were also very worthy items as the proper one about which I now write.
Screenshots:
Download: