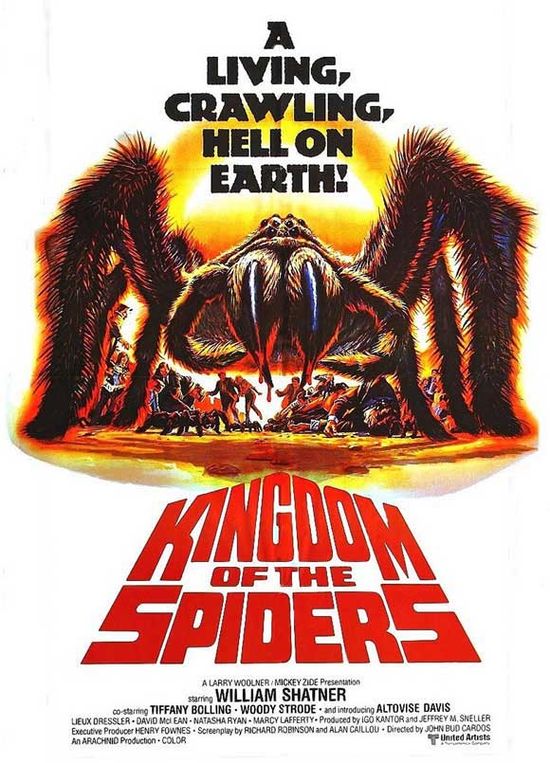 Year: 1977
Duration: 01:35:15
Directed by: John 'Bud' Cardos
Actors: William Shatner, Tiffany Bolling, Woody Strode
Language: English
Country: USA
Also known as: A Maldição das Aranhas, O Império das Aranhas, La invasión de las arañas, Tarántula, Hämähäkkien hyökkäys, L'horrible invasion, Farmakeres arahnes, Królestwo pajaków, O Reino das Tarântulas, Spindlarna, Panik, Mörderspinnen, Mörderspinnen greifen an
Description: Trying to figure out the causes of the high mortality of their livestock, the farmer Rack Hansen realized that his farm and a nearby town lie on the migration route of thousands of spiders, tarantulas. Hansen decided to alert the authorities, but too late – the invasion of insect killer has already begun.
Review: I do not like spiders . . . so you can just imagine how I felt whilst watching a whole kingdom of them . . .
. . . yep, you guessed it, creeped right the heck out. That's how I felt as I watched Kingdom of the Spiders.
When I found this one in my brother's DVD collection, I wasn't holding out much hope. I mean look what happened the last time I picked something from his stash – The Horror Within!! But I was pleasantly surprised by this spidery little cheesefest.
Right from the get go, I felt very attached to the character of Rack Hansen (William Shatner) who is basically a small town veterinarian loved and respected by his whole town. Also known as quite a lady's man, he further endears you to his character with his unselfish care for his sister in law Terry (Marcy Lafferty) and niece Linda (Natasha Ryan) who lost their husband and father in the war.
But this is not a story about a man and his family, it is a story about killer spiders who have been driven to new food sources due to man's incessant eradication of bugs by spraying DDT and other pesticides. If you kill off a spider's food supply, it has to adapt. And adapt these spiders have as they go through livestock and pets and eventually work their way to the people of this small town.
Diane Ashley (Tiffany Bolling), a big time entomologist from Tempe University, comes along to try and help with the spider problem and ends up falling for Rack (I mean come on this is William Shatner we are talking about here – who could resist?). As the spiders descend on the small town this pair of scientists along with Sheriff Gene Smith (David McLean) and local innkeeper Emma Washburn (Lieux Dressler) try to keep the spiders at bay while they find a way out for themselves.
With a truly fantastic (and unexpected) ending, Kingdom of the Spiders is a definite watcher for any fans of cheesey horror, William Shatner and/or spiders.
Screenshots:
Download: