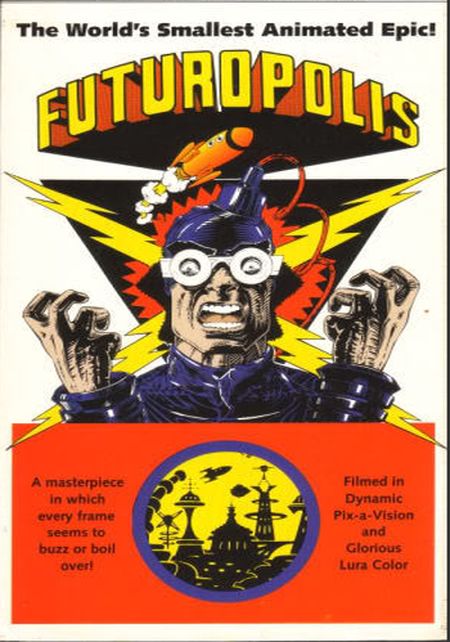 Year: 1984
Duration: 00:38:06
Directed by: Steve Segal and Phil Trumbo 
Actors: Tom Campagnoli, Mike Cody, Stan Garth 
Language: English
Country: USA
Also known as: 
Description: This is a part animated, part stopmotion independent Scifi  comedy.
Somewhat hard to find kind of movie, and i dont think ive ever seen anything quite like it actually.
It was shown once on swedish tv in the beginning of the 90s, took quite some time to just find out what the name of it was…
Supposedly it took 9 years to complete.
Runtime 40 minutes.
VLC generates an errormessage when opening it but it still runs…
Quote from IMDB:
"An excellent mixture of animation and real film from Rocket Films in 1984, directed by Phil Thrumbo and Steve Segal (which also plays the role of Mutchu, one of Lord Eggheads evil helpers). Segal also programmed the special effects in the endpart (using Commodore 64). The heroes of futuropolis are Captain Garth, Spud, Liutenant Luna and Cosmo. These four space cadets are sent to investigate series of mutations and destructions of peaceful worlds. The brain behind this chaos is Lord Egghead, the inventor of the "mutation ray". Futuropolis is an excellent movie which contains a lot of great animated effects!"
I would like to send a Huge thank you to whoever ripped this and made it availiable!
Stills dont really make this one justice, it needs to be seen in motion. Then we can all sing the catchy themesong together. Fly Rangers Fly!
Screenshots
Download