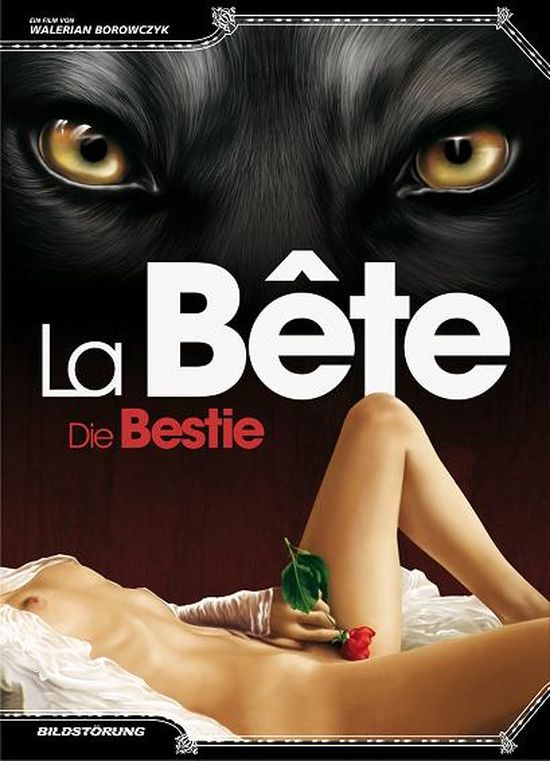 Year: 1975
Duration: 01:34:16
Directed by: Walerian Borowczyk
Actors: Sirpa Lane, Lisbeth Hummel, Elisabeth Kaza, Pierre Benedetti
Language: English | French

Country: France

Also known as: La bête, La bestia, Das Biest, Death's Ecstacy
Description: Marquis Mathurin is going to marry on Lucy, a wealthy American heiress. The bride, who arrived in an old castle, hidden from prying eyes in a virgin forest, unaware of carefully hidden family secret, which has become the curse of noble birth. It turns out that two hundred years ago, the Marquis Romilda, great-grandmother of her fiancé, sinned with forest monster …
Review: Despite that, I recognize that picture of Borowczyk is one of the best, well thought-out plot, well-chosen details and director's findings, fine performances by the actors, very hesitant, characterize the review as a positive or a neutral.
For me, the film consists of a very rough scene – almost brilliant – the home of low-budget and Mathurin, cardboard dolls with "The Beast" … Last naturalism first showing in the best mating horses and very unconvincing porn at the end of the film.
In short, poorly filmed erotic scene with the Beast, it looks like a bear, but they are, all the spoils … If Borowczyk( Immoral Tales and La marge ) did not hesitate to show other films sex with a rabbit, could invite and live bear on the role.
And the other scene, and details the film is very pleased with their well thought-out and colorful, and the image of the bride Mathurin, obsessed with all biological, charms and megaubeditelny!

Screenshots:
Download: