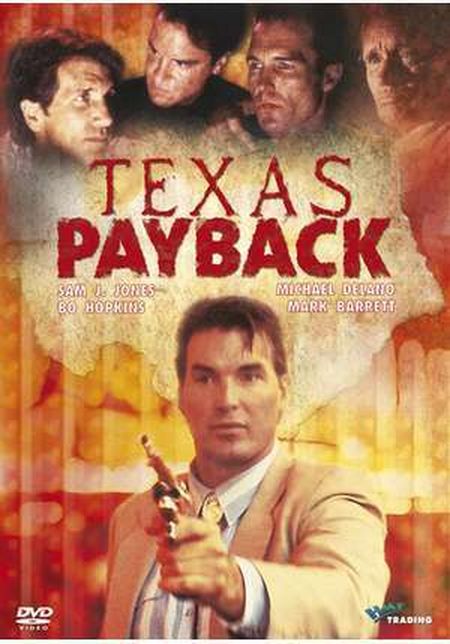 Year: 1995
Duration: 01:35:04
Directed by: Richard W. Munchkin

Actors: Michael DeLano, Bubba Ganter, Gary Hudson

Language: English (Spanish subs)

Country: USA
Also known as: Leszamolas Texasban, To xekatharisma

Description: A vicious killer who escaped prison is out for revenge on the Texas Ranger who put him behind bars. By his side are his two brothers and together they leave behind a bloody trail on their quest for revenge.

The gang leader Cody gills escapes from prison. He wants to deal with updateuser him behind bars Ranger Lewis gentry. Together with his friend, the Sheriff Bishop, gentry reflects the attack on his home.
But the bandits can kidnap and outrage over his bride, singer Aggeloi Shelby. Declaring a merciless war criminals, he dispenses his own justice….
Filled with recognizable B-movie regulars and explosions, TEXAS PAYBACK feels like a typical PM Entertainment actioner.  The cast and its pacing of exploitation elements nudge it slightly above most of its peers.  I was engaged for the full 90 minutes as it seems to follow Roger Corman's rule of requiring nudity or violence every ten minutes.  The explosions and violence are top notch considering the budget.  From my experience Sam Jones is more recognizable as a heavy but he's quite good in the lead.  And its no surprise Gary Hudson is more than capable as the villain.  There is a generous helping of naked chicks but unfortunately Kathleen Kinmont is not one of them.  She does have a fair amount of screen time and puts in one of her better performances.  I enjoyed seeing her riding horseback and found it amusing that she does some "singing" in a nightclub (a common role for her).  I highly recommend this for fans of PM Entertainment type action flicks.
Screenshots
Download