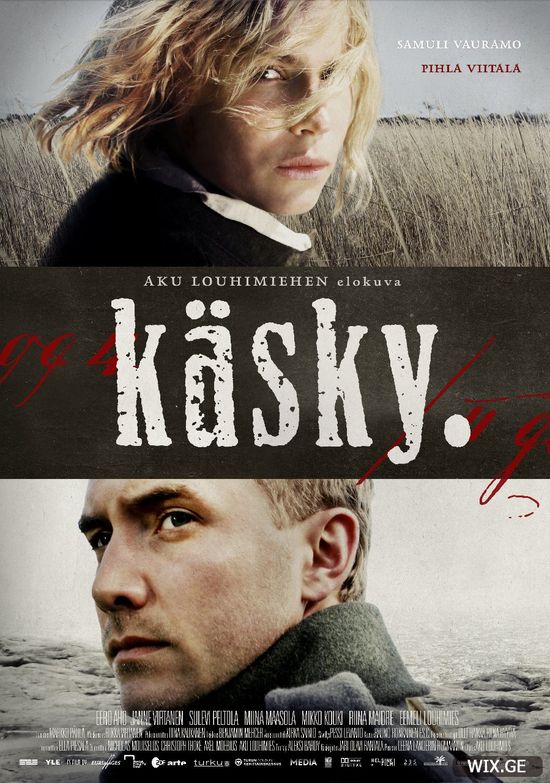 Year: 2008
Duration: 01:49:06
Directed by: Aku Louhimies
Actors: Samuel Vauramo, Phila Viitala, Eero Aho
Language: Finnish | German | Russian ( English Subs )

Country: Finland | Germany | Greece
Also known as: She-Wolf, Käsky, Apriltårer, Die Unbeugsame
Description: Spring 1918. In Finland the rages a civil war. Young huntsman Aaro Haryula who fights on the side of "white", get an order: execution without trial of a woman – a "red" soldier. Idealist Haryula refuses to obey the order and decides to deliver himself the captive in a court-martial. Travel is fatal to both …
Review: I must say, the movie Tears of April surprised plot twists. After reading the description, I thought – all clear now Haryula fall for the enemy's beauty SAIT, zateyut together they escape, of course, they succeed … How predictable! Happy ending.
Nothing like that. Haryula really is an idealist, as stated in the brief description. Their physiological needs Haryula satisfies himself, despite the great temptation. For it does not matter beauty of women, the feelings that arose for her, he does what he has to do (as opposed to those of higher rank). He wants freedom for the prisoners, but can not afford to let it go. For him, it is important that all was fair and honest, this is not indicative in nature.
Haryula – romantic idealist who has not yet had time to lose their humanity in the war. Perhaps it is this tenderness, kindness, simplicity and draw it Halenberga judge. Most likely, once Emil was also a romantic, a poet, according to his wife. He had long forgotten about feelings, inspiration. And pulls Halenberga to the young soldier because he sees himself as the boy, many years ago. And so he is captivated Haryuloy later that it costs him his life.
Unexpected twists and turns will continue. By the middle of the film is thought that the soldier did not work, a woman will still be shot, and the boy, the son of comrade SAIT, lost in an orphanage. However, more and more surprising. Intimate relationship Haryuly and wife Halenberga, unconventional inclinations judge, and, finally, the bloody denouement. How touching looked last kiss Haryuly and SAIT!
The only thing in the film Käsky that remains unclear – if Haryula so honest that did not even get SAIT, why is he allowed himself to seduce his wife Halenberga?
Review of Käsky #2:I do not know, guys, why would my friends speak so positively about this movie and offer it so hard to see. In my view, when compared with the "Cuckoo" means to "Tears of April" is most similar in spirit – the film is much weaker, although open, by and large, the same subject [but this time – monstrous primitive and solid fraction abominations].
The main weakness – a terrible stereotype characters almost griboedovskogo times. Here's gallant partisan. It is good. Raped. That's bad captor. He, too, is good, because the young, beautiful, and they will love. Here's cattle. Three pieces. Bad. Boat. One. Drown. How, who, where, why – no information. And the dialogues are pouring … at first glance just boring, and if scrutinized – remember Plohenky style patriotic films perestroika.
And it is fine, if the picture is telling something interesting about Finland last century, so there is no – zero, too. Most definitely, that is identical to what can be removed in the Åland Islands, in Hollywood, in a forest near Moscow. No originality and identity. The creators obviously twisted in some other way, instead of being content with the plot is not very authentic pieces of military operations and personnel of the "face flies, close-up, on the move."
Therefore, the rating imdb seems much more honest, I do not gravitate to the eight movies.
Screenshots:
Download: