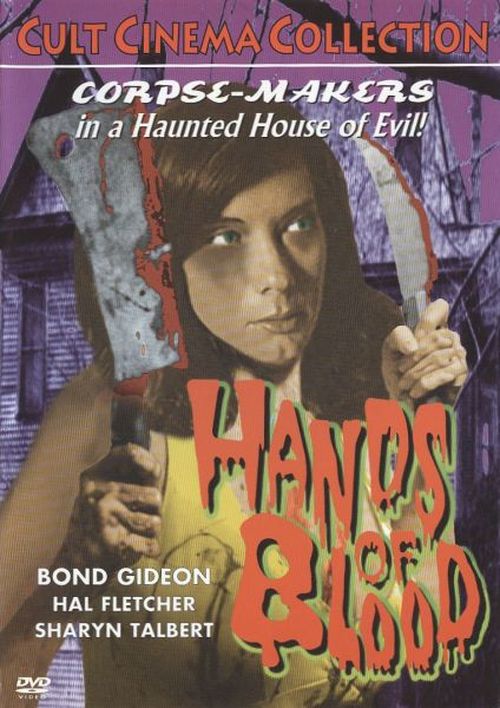 Year: 1974
Duration: 01:10:20
Directed by: Perry Tong
Actors: Hal Fletcher, Bond Gideon, Sharyn Talbert, Byron Wolfe, Sandy Pinkard and Linda Patterson
Language: English
Country: USA
Also known as: Hands of Blood, The Texas Hill Killings
Description of Stepsisters movie: The summary reads like it was written by someone on crack, and says close to nothing about the movie itself. I apologize, but you have to read this.
"The atmosphere is delightfully sleazy, the surprisingly good music is straight from a honky-tonk… a wayward winner… Thorpe tackles and starts molesting Diana, and she likes it!" – Jeff Frentzen, Dark Waters
Hands of Blood was released theatrically as Stepsister and later as The Texas Hill Killings. Its star is Bond Gideon, from "The Young and the Restless," and featured on a recent E! Entertainment television documentary on the popular soap opera.
This Bonnie and Clyde of small independent American films was all shot on location in Texas in an area suited to its seamy/steamy story and influenced by Hitchcock's Psycho.
Two strange sisters live in an old dark mansion and take strange men to bed and slaughter them. Instead of planting trees, the women bury the men in the front yard of the house.
Director Perry W. Tong has a vision for the slimy side of life, and this film presents that in a manner that only a low-budget film can. Fans of the offbeat and perverse will enjoy Hands of Blood for its bizarre characters and horrifying scene.
CHECKLIST!
1.8 with 25 votes on imdb
soap opera actress
early 70s texas fashion
attempted rape thwarted with acquiescence
rotary phone installed by jolly green giant
Review: Desolate non-horror from Texas with non-actors (though the cover makes mention of Bond Gideon from TV's The Young and the Restless) and a pretty good soundtrack (some cool fuzzed out country blues; the song during the opening credits sounds like Pittsburgh to Lebanon). Strictly for fans of weird regional dreariness.
Ripped from the Image DVD. Extras include the "rarely seen" House of Terror live show promo that's on every Image Independent International disc, trailers for most of the Image II collection (mostly Blood Island films) and a 10 minute interview with Hands of Blood director Perry (it's talking about you, it's talking about growing up in England, it's talking about being the slave boy, it's talking about giving head when you're 6 years old, it's talking about doing these things; the coming apart of you) Tong.
Screenshots:
Download: