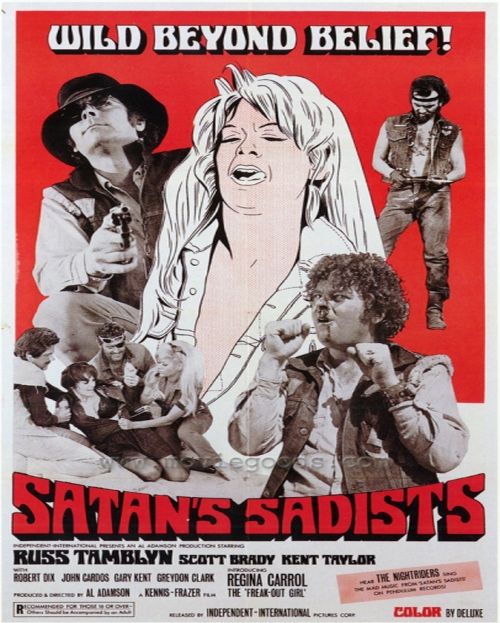 Year: 1969
Duration: 01:26:18
Directed by: Al Adamson
Actors: Russ Tamblyn, Scott Brady, John 'Bud' Cardos
Language: English
Country: USA
Also known as: Rocker – Satans Sadisten, Los sádicos de Satán, Nightmare Bloodbath
Description: Another Al Adamson outing, distributed by Troma. This one "stars" Russ Tamblyn whose name I recognise from his role in Twin Peaks but he doesn't look that familiar as the biker gangs unlikely looking leader 'Anchor'
A Motorcycle gang wreak mayhem and murder at a diner in the middle of nowhere and then arse around in the desert.
Having never watched this I decided to give it a crack before I uploaded. A reasonable effort with a couple of pretty funny moments. Anchors speach about killing 'for the hippies', corpses that blink, murder, rape and a very poorly shot LSD fueled orgy all contribute to this typical Adamson shambles of a movie.
Probably a must for the biker movie fans out there.
Review: The film Satan's Sadists is definitely not like. In many old paintings , albeit at a discount on prescription of years you can see a lot of interesting things , but this film is not in this category .
Poor camera work all … killing panning – no picture filmed in the pavilion – but this advantage operator has managed to turn into a minus. All of the " dead " in the film breathe and blink …
You can forgive the ridiculous staging fights, you can live with not always well chosen sound close , but with a bad acting job can not accept .
Throughout the film, the actors are bored , blank expression face. When their friends are killed , raped wives – another gentleman just jerks once for decency and bored voice to utter the phrase screenplay in a spirit of " I 'll find you !"
At the beginning of the film was concerned good description of what scumbags still sometimes people . .. but subsequently the heroes and antiheroes your stupid picture , not logical and bombastic action and a bad game – negated a favorable impression of the first 10 minutes of the film .
Hero – raisers are not the main villains of the film better . In the scene in the cafe – a brave Marine sees a fight scene in the cafe and that the participants in a brawl out onto the street. Very impressed by his broken nose , apparently, one of the offenders , he naturally " drown in the toilet " and the second scores to death … this is such a positive character …
Yes, in 1969 the film can and plenty of scenes of shocking violence , gratuitous cruelty, the presence of scenes of sexual violence ( oh no no no – at that time it was impossible to show in the frame even bare breasts – so do not expect the scenes with nudity … ) , unfortunately modern audience , and not so surprising , and not to scare .
This film – well under any sauce can not be assigned to the category of horror films. Do not want to enumerate the many mistakes and docking. .. hundreds of them. The film is frankly bad. It was bad in 1969 , and now is bad .
IMHO – the movie is not worth your time watching it .
've Been thinking how to evaluate this kinoopus . .. 1 point for the suffering of nasally interpreter – committed the deed and dosmotrevshego this murk through. And one for the idea (remember the movie 1969 !) – Stupidly crippled director.
Screenshots:
Download: