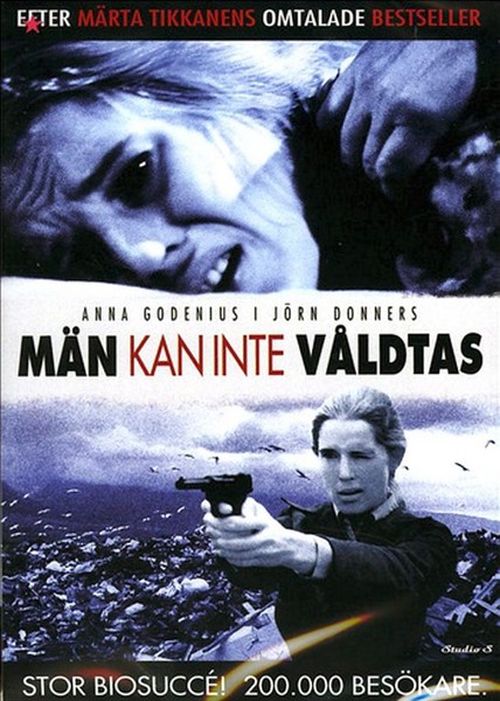 Year: 1978
Duration: 01:34:23
Directed by: Jörn Donner
Actors: Anna Godenius, Gösta Bredefeldt, Toni Regner, Nils Brandt
Language: Swedish (English subs)
Country: Finland | Sweden
Also known as: Män kan inte våldtas, Manrape, Menn kan ikke voldtas, Les hommes ne peuvent pas être violés
Description: Anna, a fortyish librarian who is recently divorced, goes on a date with Martin, a middle-aged perpetual bachelor. After a little sexual groping, she is ready to call it quits. Instead, he rapes her. As she recovers from her shock over the incident, she contemplates what would constitute a similarly invasive humiliation for a man, asking herself the question, "can a man be raped [by a woman]?" Donning a good disguise, she begins to stalk Martin, causing him considerable discomfiture. She even causes him to lose a bowling tournament. After enough of this, she abducts him at gunpoint just before a party he is giving, takes him back to his apartment, and ties him in a humiliating posture on his bed, leaving his front door unlocked when she departs. This unusual drama is based on a novel by Marta Tikkanen.
Review: At first glance, straightforward film: stranger after a party, a successful quiet man invites a woman into the house, and then there is quite a predictable event. But she believes that it was the violence.
Further there is a standard for such films stage interpretation of what happened, and re-evaluation of his life. Character – a single mother who would not destroy his life, but for a sense of comfort, it also wants to humiliate the offender.
Upon learning that the Swedish law a woman can not rape a man, she decides to take revenge. The result is a highly original feminist movie that with good treatment could well be a hit. Such as "On the Doll"
Screenshots:
Download: