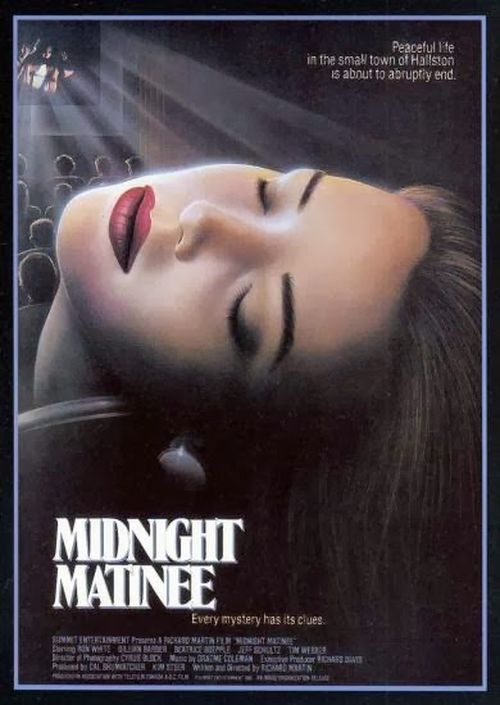 Year: 1989
Duration: 01:33:06
Directed by: Richard Martin

Actors: Ron White, Gillian Barber , Jeff Schultz

Language: English
Country: Canada
Also known as: Midnight Matinee , La séance de minuit , Keskiyon arvoitus, Midnight Matinee, Bei Vorstellung Mord
Description: 
"At the festival of horror films in the cinema, paramount mysterious things happen. Someone commits a murder in the same way as it was in the movies. But since the dead bodies are then in other places, the police are not immediately able to link the events together…"
Not to be confused with Joe Dante's 1993 film MATINEE this 1989 Canadian thriller – also known as MIDNIGHT MATINEE – is noted on the IMDB as being made for cable television.  Whether or not that is true I can't say for sure, but I doubt the accuracy of that as this was definitely released theatrically; that's how I first saw the film, and I know it was reviewed (favorably too!) in "Variety" as a theatrical release.  This is my own rip from the VHS release.  For some reason there is a tiny bit of pixelation in a scene towards the end (the strobe light on a white screen somehow caused havoc!) but nothing serious.  MATINEE is a fun little blend of murder mystery and horror film, set against the backdrop of a horror movie festival.  It was directed by Richard Martin (son of LAUGH IN star Dick Martin), features a great deal of footage set inside a classic old cinema, and includes a cast of character actors like William B. Davis, Gillian Barber, Timothy Webber, Stephen E.Miller and Don Davis that will be recognizable to anyone who watches THE X-FILES, SUPERNATURAL, or the various STARGATE series.  It follows certain traditions of splatter movies without being one, and part of its creative fun is watching the horror movies-within-the-movie created specifically for the production – the first of which is a playful nod to the original FRIDAY THE 13th.
This Canadian blend of murder mystery and horror film takes place in Holsten,  a small town in British Columbia where, two years before, the local movie theater had a horror film festival, during which a local teen was murdered. Now, two years later, another horror movie festival is being held at the same theater.  Some people are afraid that the murder will be repeated; the polic's Chief of Detectives is concerned; and the killer from two years before is still at large.
The murder victim's date, Kelly, who was sitting next to him when he was killed, fled be to California to be with her movie-star father. Now, he has returned to Holsten for the second festival.  While he is in Holsten, over his ex-wife's objections, he tries to lure his younger daughter, Sherri, to join him and her sister, Kelly, in California.  Instead of joining her father, Sherri plans to run away with her boyfriend.  Before Sherri can get away, Kelly, scared of what may be happening, returns.  On the night of the festival, Kelly's fears seem justified – two more murders occur.  Can the police stop the killer before yet another person is murdered?
Screenshots
Download