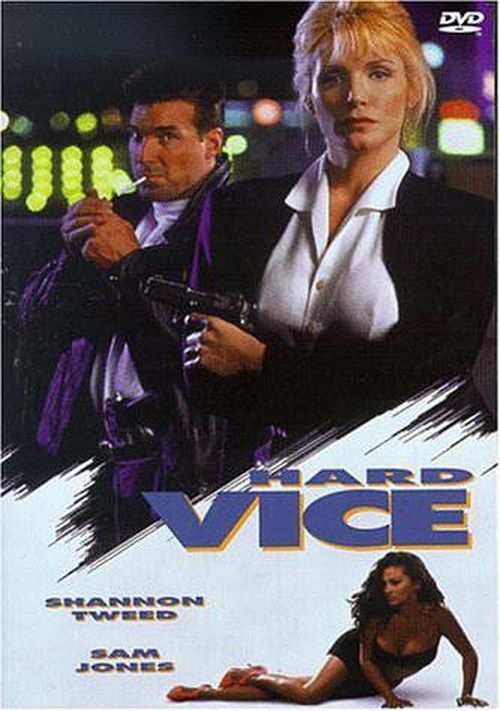 Year: 1994
Duration: 01:22:00
Directed by: Joey Travolta
Actors:  Sam J. Jones, Shannon Tweed, James Gammon
Language: English
Country: USA
Also known as: Vegas Vice
Description: The cover advertises this as the proper R-rated version, so Simitar did accept returns back in the late 90s when this was released. Still, they later ended up releasing a double-feature of this with Crime Broker and again used this cut version. I didn't know this was cut, but I got this for a very cheap price over ten years ago, so I didn't bother to return it. And it's not like there would be choices.
Interestingly, for a film where all the good stuff is cut out, this commands surprisingly high prices. A new one is around $35-40 at eBay and Amazon. Then again, a Tweed-film without nudity is something of a rarity. Perhaps people desperately want a Shannon Tweed-film they can pretty much watch with their grandmothers…?
Review: This one has clients of hookers being killed and it seems like a hooker might be responsible for the killings. They are mysterious since there are no signs of any violence. Only a $100 placed on the victim's forehead and a bullet shot through it. Shannon Tweed is a part of a "video vice"-unit. They are in the process of making a bust when Sam Jones happens to arrive to the scene chasing some guy. The guy tries to steal a vehicle and make a run for it, so Jones blows it up with a few bullets
Tweed's "video vice" is stunned by this and nickname Jones "Marlboro Man" for his smoking habits and "Caveman" for his chauvinistic tendencies. But, as you can guess, Tweed's unit is assigned to the "hooker hilling her clients and destroying perfectly good $100 bills"-case, and they get reinforcements in the form of Sam Jones.
Naturally, they don't like to work together, but the captain insists. A little later, Jones and the captain discuss these matters in the men's room. In a rather fun moment (might have been intentional, but I think it actually wasn't), the captain actually says to Jones "Maybe you shouldn't be quite so hard", while this is happening:
Screenshots:
Download: