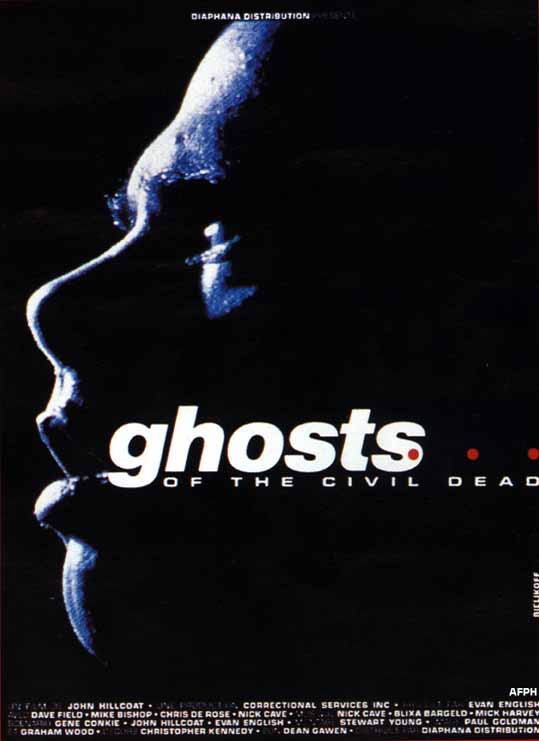 Year: 1988
Duration: 01:29:08
Directed by: John Hillcoat
Actors: David Field, Mike Bishop, Chris DeRose, Kevin Mackey and Nick Cave
Language: English
Country: Australia
Also known as: Ghosts… of the Civil Dead – avoimien ovien päivä helvetissä, Hölle ohne Helden, Willkommen in der Hölle, Yasayan Ölülerin Hayaletleri
Description: Story written by musician Nick Cave (of The Birthday Part and Nick Cave and the Bad Seeds) and directed by John Hillcoat who would both go on and work on the Australian western The Proposition. Story about a high-tech security prison where the guards and inmates give each other hell before they get fed up and explode in a violent fashion.
Soundtrack also done by Nick Cave.
Review: Under the "civil death" in the film (and in Roman law) means the loss of civil rights as a result of imprisonment and incomprehensible combination of the words "ghosts civil death" is accordingly just prisoners. Not really liking movies a prison theme and this began to look solely because of participation in the project of Nick Cave, who co-authored with other guys Hillcoat and dashed off a script and composed the soundtrack for ten minutes lit up in a small, but incredibly bright and the role of racist thugs.
The plot revolves around a rebellion raised in the ultra-modern futuristic zekami slammer "democratic" type – or rather, around the judicial committee attempts to analyze the reasons that led to this rebellion. The film itself, and is in the form of excerpts from this report, the Committee itself, that is, it is in some way the original psevdodokumentalistika. It is worth mentioning that the "ghosts" in some way based on the stories of the famous American recidivist and part-time writer Jack Henry Abbott, who had a tendency to blame their crimes through the rotten U.S. correctional system. Accordingly, decay of the system and is in the picture focus. In the most exaggerated form the film tells the story of how the guards with the filing of a mysterious high heads rigidly gnobit prisoners, and they inevitably save up anger and resentment, which relish pouring into the final tape. In the process of the specific labels of "good / bad" neither one nor the other is certainly not hung – the film moves to its logical climax desolate joint efforts of both sides. Partially looks like a much more later German "Experiment", by the way.
Screenshots:
Download: