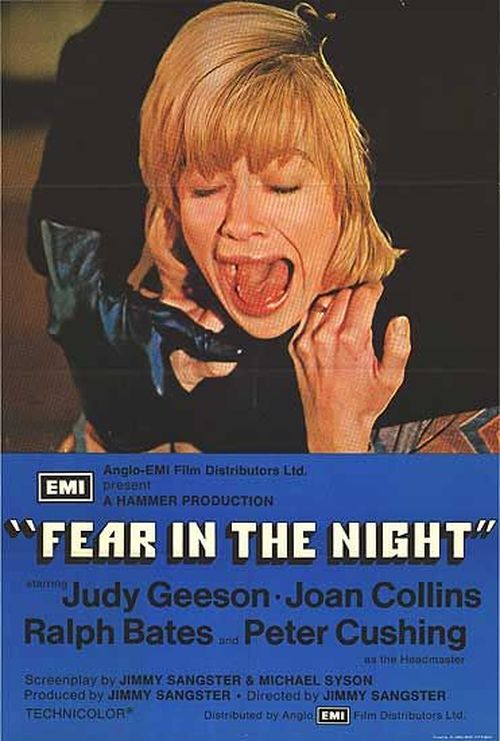 Year: 1972
Duration: 01:29:57
Directed by: Jimmy Sangster
Actors: Judy Geeson, Joan Collins, Ralph Bates, Peter Cushing, James Cossins, Gillian Lind, Brian Grellis, John Bown
Language: English
Country: UK
Also known as: Um Grito Dentro da Noite, Paura nella notte, Honeymoon of … Fear
Description: Fear in the Night was the last, and one of the best, of the suspense thrillers that Hammer produced alongside the better-known gothic horrors. The film was also the Hammer swansong of director and co-writer Jimmy 'Lord of the Undead' Sangster, who had joined the company in 1949 and helped create its groundbreaking style.
After suffering a nervous breakdown, Peggy Heller (Judy Geeson) has started to recover and is now headed toward a fresh start, of sorts. She has married a man named Robert (Ralph Bates), who teaches at an exclusive school for boys. As part of her new marriage, she plans to move in with Robert at the rural boarding school, but on the night she is to depart, she is attacked by a strange assailant. The attacker has only one arm and while the incident has frightened her, Peggy plans to move ahead with her plans. When she arrives at the school, it turns out to be an odd and disturbing place to her, especially once she encounters its headmaster. The man in charge is Mr. Carmichael (Peter Cushing), a very strange individual in his own right, even if he wasn't married to the ice cold, bitch on wheels named Molly (Joan Collins).
In addition, the school just seems too prim and proper to her, as if some dirty secrets were present and someone was always working hard to maintain the pristine appearance. One night while resting in their cottage, Peggy finds herself confronted by the one armed man yet again and of course, she is petrified that the attacks could become frequent. So when Mr. Carmichael breaks into the cottage, Peggy assumes it is the one armed man and shoots him. In the moments that follow, all her memories have been lost and buried in her psyche, leaving her in the dark about her own actions. Has she killed Mr. Carmichael, was it all a dream, or is some darker force at work at the school?
Fear in the Night is an ambitious horror film with a story structure that is quite different than most other shockers. Time is at times manipulated, and all of the characters, including the protagonist, appear to be concealing the truth. Throughout nearly the entire movie, the viewer is left in the dark as to what is really happening. Because of such a structure, the film is detached and distant, making it extremely slow moving and at times uninvolving. Although remaining oblique about the characters does make the film slow moving, it also ensures that the climax is irregular and enlightening, with a more than worthy payoff.
Screenshots
Download