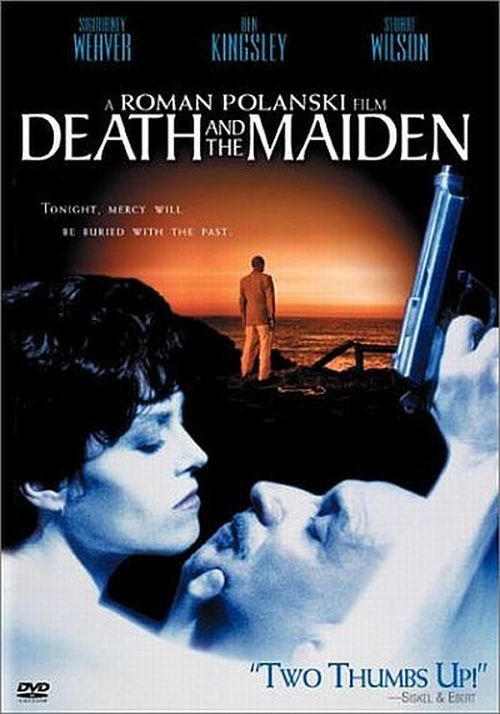 Year: 1994
Duration: 01:43:00
Directed by: Roman Polanski
Actors: Sigourney Weaver, Ben Kingsley and Stuart Wilson
Language: English
Country: UK | USA | France
Also known as: La jeune fille et la mort | La muerte y la doncella
Description: This is a Roman Polanski (Bitter Moon) lesser known drama staring Sigourney Weaver. Pretty serious stuff for this Site. 
Paulina Escobar – a housewife and wife of a major lawer. One day a storm forces her husband to come home with a neighbor, Dr. Miranda. His smell, voice, favorite expressions, passion for classical music led Pauline (Sigourney Weaver from Map of the World) to believe that it was him who many years ago, during the Nazi occupation tortured and raped her, blindfolded her.
Review: "Death and the Maiden" – the most underrated picture of Roman Polanski. Still, after a movie – a real art house, chamber thing, more like a theatrical production. It is very difficult to count on success of the film, all the action takes place in a confined space with three actors, but I think the true connoisseurs of good cinema will not pass by.
The director tells the shocking details of her story about the horrors of the military dictatorship that had prevailed in the 70s in one of the countries of South America. And does it not visually, but through dialogue, written by Ariel Dorfman, author of the play, on which, in fact, shot this film. The main actor Polanski makes middle-aged woman named Paulina Escobar, a victim of a totalitarian regime, have been subjected to torture in his youth monstrous secret police during questioning. Husband of Pauline – Gerardo, a senior official, who heads the commission to monitor the political criminals implicated in the massacre of innocent people, trying to help his wife to forget the past, but Pauline inconsolable. Her mutilated soul and sterile body crave revenge for years. Once the fate throws her a chance when their doorstep one stormy rainy night is a Dr. Roberto Miranda, very similar to that of the doctor from the past for inhuman experiments on his patients, including Pauline …
Screenshots:
Download: