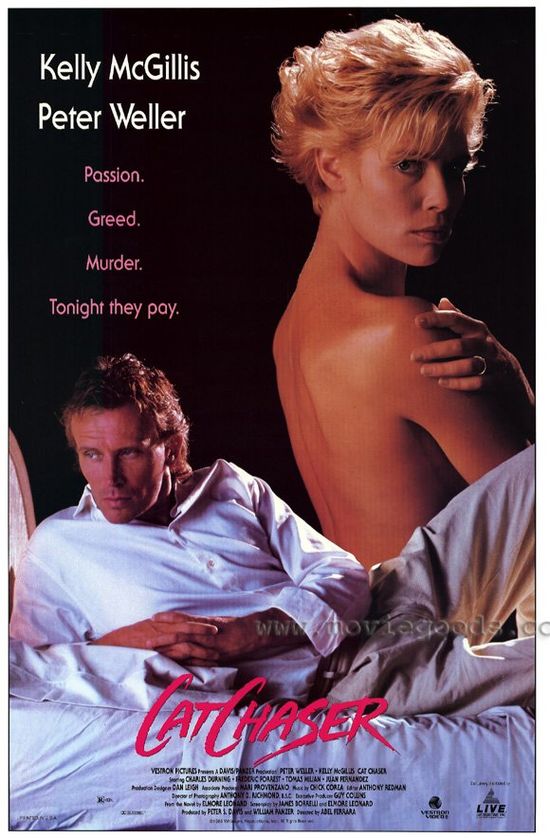 Year: 1989
Duration: 01:32:28
Directed by:  Abel Ferrara
Actors:  Peter Weller, Kelly McGillis, Charles Durning
Language: English
Country: USA
Also known as: Sedução, El cazador de gatos, Vaaran polttopisteessä, Oi synenohoi, Macskafogó kommandó, Oltre ogni rischio, Kocur, Caça Grossa, Progonitelj macaka, Dödliga förbindelser, Hexenkessel Miami, Short Run
Description: ABEL FERRARA'S 1989 FILM, CAT CHASER STARRING PETER WELLER, KELLY MCGILLIS, CHARLES DURNING, FREDERIC FORREST, TOMAS MILIAN, JUAN FERNANDEZ, KELLY JO MINTER, PHIL LEEDS AND ROBERTO ESCOBAR BASED ON THE NOVEL BY ELMORE LEONARD.
Review: In 1965, the year the American paratrooper George Moran was among the 42 thousand soldiers of the U.S. military, which is contrary to the UN Charter, invaded the Dominican Republic to strengthen the "pro-American" dictatorship Cabral. Hardly anyone remembers shameful page in American history.
But after 23 years this "shit" do not forget: George Moran – owner of a small beachfront hotel in Palm Beach, and a former general Andreas Debo, taking refuge in the United States. And binds them one thing – the love of a woman.
Screenshots:
Download: