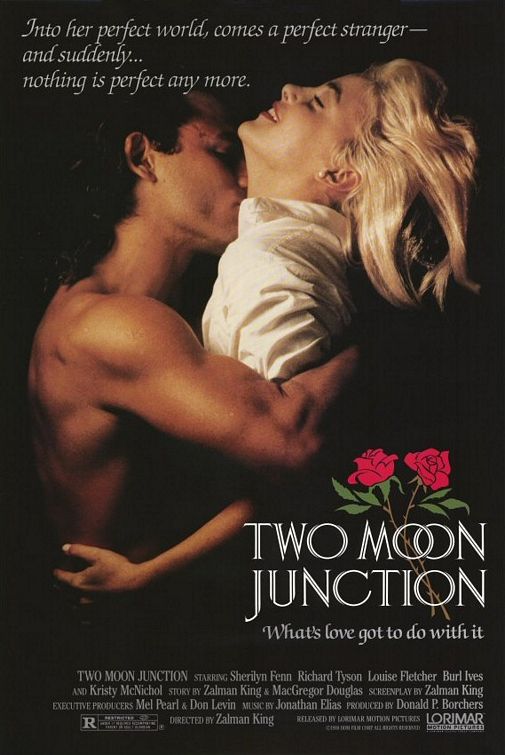 Year:  1988

Duration:  1:44:00

Directed by: 
Actors:   Sherilyn Fenn, Richard Tyson, Louise Fletcher
Language:  English

Country:  USA

Also known as: Congiunzione di due lune, Encrucijada de pasiones, Um Toque de Sedução, À fleur de peau, Spotkanie dwóch ksiezyców,

Description:
ZALMAN KING'S 1988 FILM, TWO MOON JUNCTION STARRING A GORGEOUS SHERILYN FENN, RICHARD TYSON, LOUISE FLETCHER, BURL IVES, KRISTY MCNICHOL, MARTIN HEWITT, JUANITA MOORE, MILLIE PERKINS, MILLA JOVOVICH, HERVE VILLECHAIZE AND SCREAMIN' JAY HAWKINS.
LATE 80's ZALMAN KING SLEAZE NEVER LETS YOU DOWN WHEN IT COMES TO SHOWING THE SMOKIN' HOT LEADING LADY NEKKID. SHOWER SCENES, MASTURBATING SCENES, BUSH SCENES, ASS SCENES…THIS ONE'S GOT 'EM ALL! A DEFINITE LATE-NIGHT CABLE CHANNEL WATCH DURING MY FORMATIVE YEARS, THIS ONE STILL HOLDS UP, REGARDLESS OF THE HOKEY DIALOGUE, OBVIOUS OUTCOMES AND MULLETS.
ALSO KNOWN FOR BEING MILLA JOVOVICH'S FILM DEBUT AND INCLUDING CAMEOS FROM MR. FANTASY ISLAND, A SCREAMIN' VOODOO SINGER AND MR. HOLLY JOLLY CHRISTMAS HIMSELF, BURL IVES. OH YEAH, MCNICHOL GETS ALL LEZBY AND SHOWS SOME PERKIES AS WELL.
The life of a young and charming April looks like a beautiful tale of noble parents, a gorgeous home, the grandmother of the millionaire and respectable guy from a wealthy aristocratic family. In high society, they are considered a perfect match.
But two weeks before the wedding April, restless and sensual nature, falls in love with a mysterious muscular, handsome Perry working in located in the heart of mobile amusement Park, and they stick their heads in the maelstrom of all-consuming passion…
Screenshots
Download