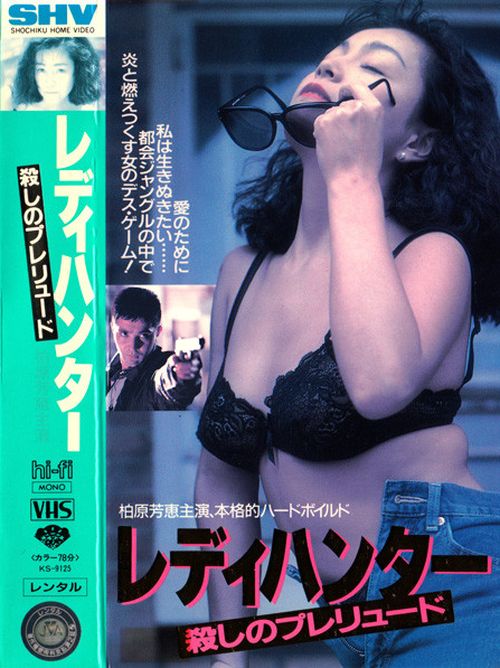 Year: 1991
Duration: 01:19:06
Directed by:  Takashi Miike
Actors:  Yoshie Kashiwabara, Naomi Morinaga, Kôsuke Morita
Language: Japanese
Country: Japan
Also known as: Redi hantaa: Koroshi no pureryuudo,
Description: Saeko a former member of a special operations unit in the US Army. At 24 she has an implausibly extensive track record: she served several years in the Japanese army before transferring to the American amred forces and carrying out missions in Grenada and Nicaragua, earning herself a very early retirement. Saeko (played by former pop idol Yoshie Kashiwabara, who makes an unlikely soldier as well as an improbable 24-year old) now lives in a ramshackle apartment and suffers from nightmares about her wartime experiences – the actual extent of which never becomes clear, since the black-and-white flashbacks show her doing little else but run through a field with a machine gun in hand. Her former superior officer Ikehiro is also retired from active duty and now runs a day care center for rich children.
One of the children Ikehiro takes care of is Riki, whose mother one night fails to pick him up. Waiting until late in the evening for a sign from the boy's mother, Ikehiro finally decides to take Riki home with him. On the way to Ikehiro's house, their car is hijacked by a small band of criminals led by an enigmatic man in sunglasses. They attempt to kidnap Rik, but Ikehiro and the boy manage to escape. They take refuge in Saeko's house, which is soon the subject of a violent siege by the would-be kidnappers. Barely surviving the lengthy assault thanks to their wartime skills, they decide to investigate into the identity of Riki's parents, discovering that the little boy is the son of the king of Moldav (sic) and that the mysterious man in sunglasses is the mastermind behind a plot to overthrow the king. When Saeko visits Riki's mother in hospital (she was in a car accident the night before), the kidnappers move in to snatch Riki. Taking the boy, they leave Ikehiro seriously wounded. He manages to stay alive just long enough to tell Saeko what happened, leaving the heroine to set matters straight in a big action finale.
Review:
Screenshots:
Download: