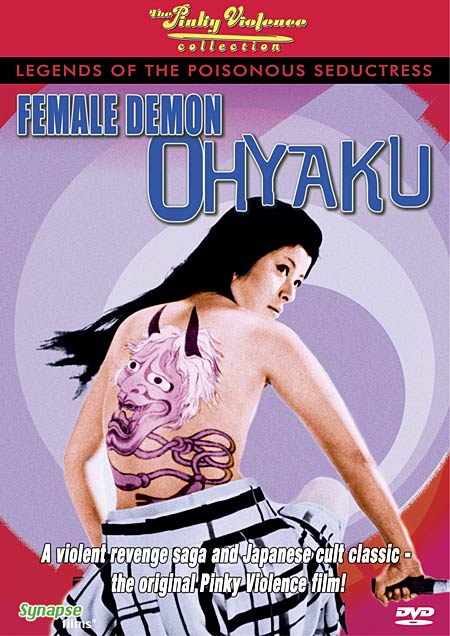 Year: 1968
Duration: 01:29:42
Directed by: Yoshihiro Ishikawa
Actors:  Junko Miyazono, Tomisaburô Wakayama, Kunio Murai
Language:  Japanese
Country:  Japan
Also known as: Legends of the Poisonous Seductress Volume 1 – Female Demon Ohyaku, Yôen dokufuden hannya no ohyaku

Description: The beautiful Ohyaku is a beloved performer whose shows draw men from all quarters. But her past has allowed her to see through the power, money and smooth words which many of the men shower her with in the hopes of bedding her. Her blunt, independent streak strikes most of the men as shocking. But the young thief Shinkuro (Kunio Mirai) finds her spunk refreshing and soon the two fall thoroughly in love.
But when Shinkuro's plan to steal an official shipment of gold collapses through the treachery of a supposed friend, the local magistrate seizes the opportunity to brutally punish not only Shinkuro, but Ohyaku as well, for spurning his aggressive advances in the past. Ohyaku is condemned to watch the grisly death of lover and then banished to hard labor within the infamously dangerous gold mines on Sado Island. As the sole female prisoner o the entire island, she must fend off both criminal and guards using any means possible.
But Ohyaku gradually learns that she can use her stunning beautiful to manipulate both men and women, and soon orchestrates her escape from the island. From there, she heads straightaway to Shinkuro's grave and then onward to the magistrate behind her suffering. The ultimate violence she releases on the haughty official leave no doubt in anyone's mind that the once-performer Ohyaku is indeed now the Female Demon Ohyaku.
Review:
The "Pinku" genre came unto it's heyday in the 1970's but this film is considered by some as a precursor to the extreme genre that became a staple of Japanese cinema. Certainly this film has many of the exploitation elements that make a classic Pinku film.
Ohyaku is a tightrope entertainer/prostitute who as a little girl was nearly killed by her suicidal mother. Raised by a theater troupe she entertains with her incredible tightrope skills and is rented out to the highest bidder after the show. A ronin/professional thief Shin sees her during a performance and is smitten. He rescues her from a rapist bureaucrat who she was sold to for a night. Ohyaku falls for the thief but their happiness is short lived as the Shin is preparing to rob the local mint. The plan fails and Ohyaku and Shin fall into the hands of the bureaucrat who horribly tortures Ohyaku and kills Shin. She is sent to Sado Island, a miserable prison island and thrown into an all male prison. In addition, Ohyaku comes into the lustful gaze of the warden's evil lesbian wife/tattooist. Can Ohyaku survive and escape to fulfill her revenge?
Shot in excellent black & white photography and with many attributes one would associate with a typical Japanese period drama, this film is never the less filled with over the top exploitative scenes. While no nudity is on display, the rapes, non-consensual sex and rape threats are frequent. The torture scenes are lengthy and rough. Ohyaku's revenges are equally lengthy and her victims don't go quickly, she wants to torment them first. Now that's enough for some people to check out this film but does the rest of it hold up? Sort of. There are several very corny scenes that even the excellent actors can't really make any better.Anyone who is a fan of Tomisaburo Wakayama will be disappointed as he doesn't lift a sword once.
Screenshots
Download