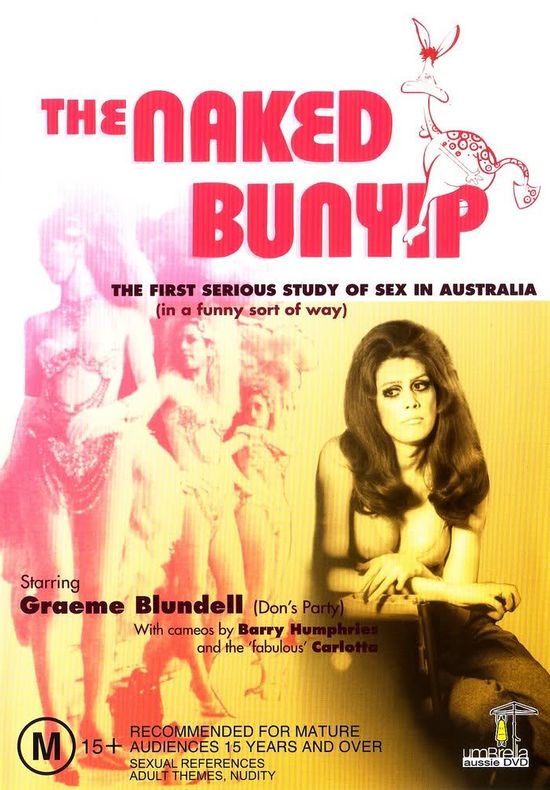 Year: 1970
Duration: 02:19:00
Directed by: John B. Murray
Actors: Graeme Blundell, Barry Humphries, Gordon Rumph and James R. Ball
Language: English
Country: Australia
Also known as:
Description: The The Naked Bunyip benchmark film is justly regarded as the film that initiated the revival of the Australian film industry in the 1970's. Produced by John B. Murray and Phillip Adams and bankrolled to the tune of $40,000, it is a semi-comic look at sexual attitudes in Australia at the end of the 60s, a kind of Antipodean equivalent of I Am Curious, Yellow.
A pre-Alvin Purple, Mr Bean-like Graeme Blundell plays a market researcher given the task of assess the sexual state of the nation and he diligently explores its various manifestations, from gym culture to gang rape.
There are many intriguing segments, such as a very early appearance of Dame Edna Everage, Fred Schepisi shooting a toothpaste commercial and Russell Morris singing The Real Thing live and although not all the segments are so easy to relate to and it is not the sort of thing many people will want to watch in one sitting, the film remains a fascinating document of its time.
THE NAKED BUNYIP is quite a mind-boggling film… at least if you're an Australian. A (sort of) documentary about sex in Australia, in the exploitative spirit of the Mondo Cane films, it features appearances from Barry Humphries (as Dame Edna), a very young Carlotta, Graeme Blundell and even drawings of naked bunyips by Peter Russell-Clarke. Running at over two hours, I assumed this film would be a bit of a drainer, but surprisingly I found that it never outstayed its welcome. A really odd cultural relic and definitely worth a watch, especially if you're an Aussie.
Screenshots:
Download: