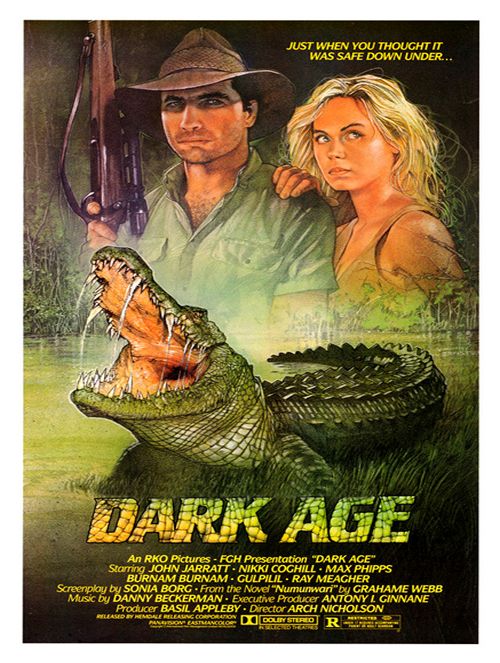 Year: 1987
Duration: 01:30:24
Directed by: Arch Nicholson

Actors: John Jarratt, Nikki Coghill, Max Phipps

Language: English
Country: Australia

Also known as: Namunwari – uhka menneisyydesta, Les dents de la mort, Agria perepeteia, Blood Surf 2, Dark Age – Crocodile Hunter

Description: Prominently featured in director Mark Hartley's "Not Quite Hollywood: The Wild, Untold Story of Ozploitation!" (2008), Dark Age is one of the last great Aussie genre films of the 80's, a kick-ass combo of giant monster movie, ecological horror, and Ozploitation that everyone who's seen it has raved about. Much better than Lake Placid or Rogue.
Review: Nice atmosphere, with alternating hot Australian jungle scenery and bloody attacks evil predator , accompanied by a very pleasant music of a different nature . In some scenes, something just sounds pleasant to the ear , in other musical stage design to match the high voltage and favors the creation of suspense .
Crocodile attacks day and night , that visually it looks great and is not trivial . Will not pull and with its appearance in all its glory , no false scenes with simple people disappearing under water and ridiculous blood stains , on the contrary – a terrible crocodile face of enormous size , with angry eyes and sharp teeth , would famously come to the surface , deftly grabbing another sacrifice , and letting in all its glory consider qualitatively made ​​monster. From their counterparts in the first film released habits crocodile. This is perhaps one of the few films where the creators actually studied and introduced predators such realism in his behavior . Croc will not float a log in Italian only on the surface of the water , giving themselves to each and every note , he will also go under the water dashing at the right time and seizing prey , he will not be the American way to chew it , leaving himself on window dressing , and become twisted , breaking bones victims , as befits krovodilu hunting . These and many other habits complied with biological accuracy that elevates the film above many similar.
No graphics , all natural, natural and done just fine. Visuals and delight by a crocodile , which is executed and very often shows his attacks , accompanied by rivers of blood and nibbles limbs, and even naplohoy erotic scene , complementing the romantic plot line .
Screenshots:
Download: