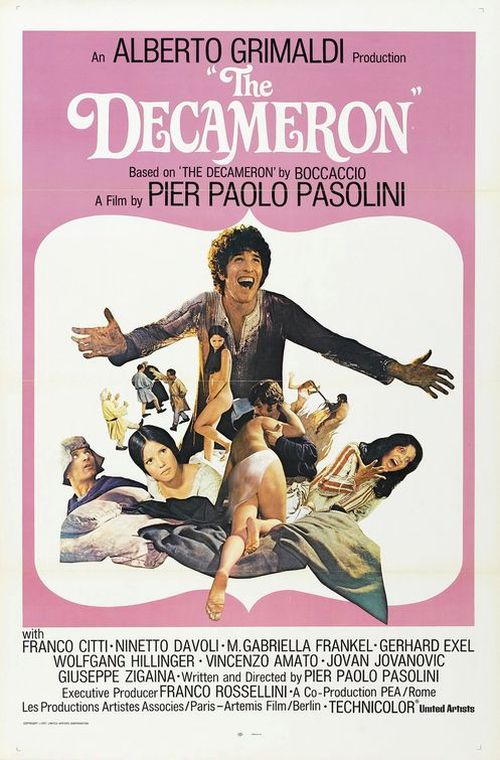 Year: 1971
Duration: 01:46:00
Directed by: Pier Paolo Pasolini
Actors: Franco Citti, Ninetto Davoli and Jovan Jovanovic
Language: Italian | Neapolitan with English Subs
Country: Italy | France | West Germany
Also known as: Il Decameron, Le Décaméron, Decamerone

Description: Painter Giotto (Franco Citti from Oedipus Rex) cruising on the roads of Italy of the emerging Renaissance in search of harmony and truth. Giotto is witnessing a variety of life stories and greedily absorbs experiences in a changing, multi-faceted reality. This reality – happy or sad, harsh or frivolous filled with a powerful element of love and lust for life, triumphant despite centuries of prejudices and taboos.
Review: "Decameron" Boccaccio – the pearl of the world literature. More surprising that in many Western countries, this product was banned almost to the mid-20th century. Although, if you look on the other hand, there is nothing surprising here is just not: so make fun of the Catholic clergy, as did Boccaccio, no one else dared.
Pasolini (the director of a famous Salo: 120 Days of Sodom) – filmmaker, to say the least, ambiguous. Agree with this, anyone overpower "Fat." However, in this case, the wizard is a more than decent (except for "spa" in the sump and the erect penis close-up) feel genuine respect to the source. Characteristically, Boccaccio was not composed the urban legend of his time in Italy: the "Decameron" occur, for example, arrangements for the local soil Greek myths and Indian stories, but the director should be the canonical version, bringing the action to the Apennines.
Life and customs of the era passed, in my opinion, perfect. Although we could have done without so many songs and music that, at times, great distraction. There is a small author's treatment of the material: short story about Izabette trimmed at the end – in the original brothers stole a flower girl, and then she died of grief.

Screenshots:
Download: