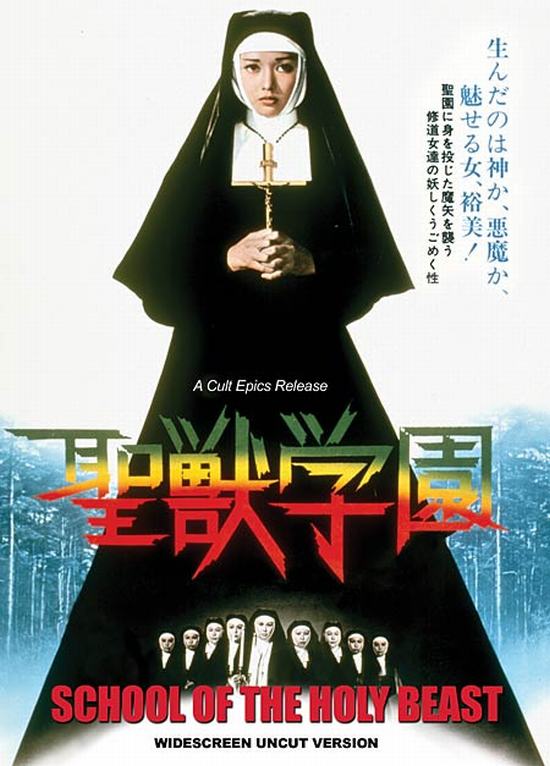 Year: 1974
Duration: 01:31:22
Directed by: Noribumi Suzuki
Actors: Yumi Takigawa, Emiko Yamauchi, Yayoi Watanabe, Ryouko Ima, Harumi Tajima
Language: Japanese (English subs)
Country: Japan
Also known as: Convent of the Sacred Beast,
Description of Holy Beast movie: A young woman (Yumi Takigawa from New Female Prisoner Scorpion: #701) becomes a nun in the convent of the Sacred Heart, to find out what happened to her mother many years ago. There her leads mother's cross, engraved with the name on it. In this quest reveals many of the dark secrets of the holy abode. In the monastery is set harsh discipline, practicing masochistic rituals …
Review: "School of the Holy Beast" is often referred to as so-called. nunsploitation-movie and this is probably true to some extent. At the very least, all the visible signs of the genre in the movie are present: a nunnery with overtly and covertly sinful nuns terrible secrets hidden in the past, the main characters, and numerous sex scenes interspersed with horror the Inquisition, etc. That's just being passed through the very peculiar Japanese mentality of these familiar to fans of "nizkozhanrovogo" movie 70 attributes give birth … I almost wrote, "monster." Although, in principle, such a determination will not be far from the truth. «Seijû gakuen» appears in the minds of some European game incarnation of erotic manga, I mean "hentai" with its conditional eyed characters sketchy, but utterly fanciful story, and a specific set of actions, the number one of which is sex. Moreover, the sexual relationship between the characters in the film can not otherwise indicated, as not having the Russian language the exact translation of the word bizarre. Well, the fact that most of the time and without similar (to European eyes) as two drops of water are heroines monastic robes or bypassed altogether without clothes, brings similar to hentai almost to the breaking point. And at the same time, the movie is playing, making the consciousness of the viewer is constantly trying to bifurcate frankly animeshnye combine images and action to the game live actors. Honestly, does not always work – this probably should have just been born Japanese.
Screenshots:
Download: