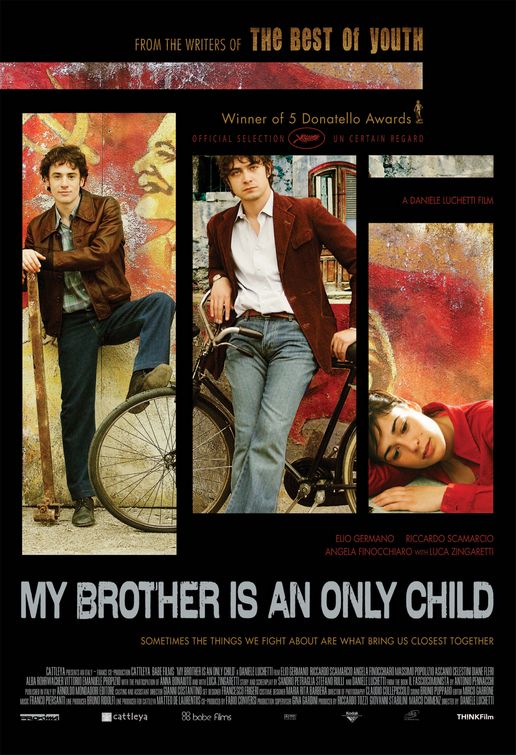 Year: 2007

Duration: 01:39:51
Directed by: Daniele Luchetti
Actors: Elio Germano, Riccardo Scamarcio and Angela Finocchiaro
Language: Italian (English subs)

Country: Italy | France

Also known as: Mio fratello è figlio unico, Mon frère est fils unique, Abim evin tek çocugu, Mój brat jest jedynakiem, Mein Bruder ist ein Einzelkind, Meu Irmão é Filho Único, Mi hermano es hijo único, Min bror är enda barnet, Min bror er enebarn, O Meu Irmão é Filho Único, O adelfos mou einai monahogios, Testvérem egyedüli gyerek
Description: Accio (Elio Germano – Do You Like Hitchcock?) – is a real curse of the family. Unmanaged, impulsive, explosive, to the blood ready to defend his case in any dispute. His brother Manrico – the exact opposite – the soul of the company and a favorite boy of his parents. In the small Italian town burst the tumultuous sixties with rich political and public life, and the brothers grow up, irreconcilable conflict because of different political views, fall in love with the same woman, but no matter what are inseparable.
Review: This film is already familiar with the merging of the private life of the historical events in the life of a country. And it's true: the Italians have always been like  to search of truth, balls of red flags of the Communist demonstrations to the brown shirts of Nazi marching columns.
Only Dniele Luchette disingenuous, calling the film in favor of one of the brothers, in part by creating a real puzzle quest which of the two brothers, and why, has been declared the only child in the family. No way. Their kolobrodstvo – just adventure-adventurous background, covering the ironic look at the political portrait of mid-century Italy.
The rapid entry deceptive. The whole point – in the opener, Vittorio Emanulele Propizio, burst vortex cocky villain in assertштп by numerous scenic short pranks debut. Departure for the seminary and for a short stay in her spectacular ending crisis of faith, the boy returns to the bosom of dilapidated house walls. It is common place the film – young Atsio how to make quick decisions, so as rapidly to change them for others.
However, very soon, he grew up and received a face of Elio Germano, Atsio and lost weight by the rapidity, and with them the ease and charm of the unpredictable, who created his predecessor, who had his hero, not letting go of the mustache, to spite his brother, friends with neo-Nazis.
Screenshots:
Download:
My Brother is an Only Child 2007