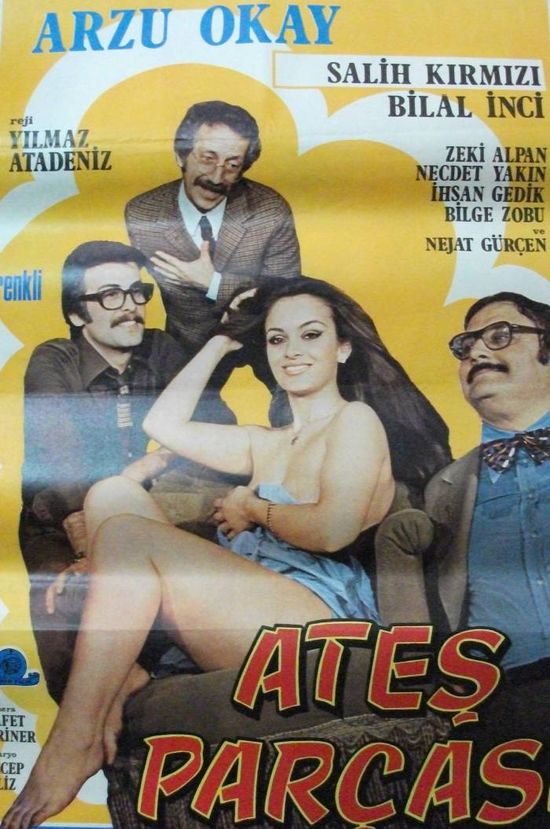 Year: 1971
Duration: 01:14:19
Directed by: Atif Yilmaz
Actors: Kartal Tibet, Nevin Nuray, Sevim Emre
Language: Turkish
Country: Turkey
Also known as:

Description: Arzu works as a dancer at a nightclub and after one of her dances, a gangster invades her dressing room and tries to rape her.
She defends herself, takes hold of his gun and kills him. She flees the club and takes refuge from the rest of the gang with a group of old men that had been at the club to wath her dance earlier that evening.
Through their wit, this group will trick the members of the gang so they end up in the hands of the police and their favorite dancer remains safe.
Review of Ates Parçasi: While Zerrin often plays the role of a temptress, Arzu is the innocent girl-next-door. One plays to our darker side while the other appeals to our brighter side. But…(you ask)…does "sweet angel" take off her clothes? Yes, she does in a nice way and is worth the wait.
A group of eccentric scientists visit the nightclub where Arzu is working and are fascinated by their latest discovery. A gangster attempts to rape her in her dressing room but our not-so-innocent heroine pulls out a gun and shoots him. She flees the club, pursued by members of the gang.
The scientists shelter her and through their inventiveness, outwit and deliver the gangsters into the arms of the law.
Screenshots:
Download: