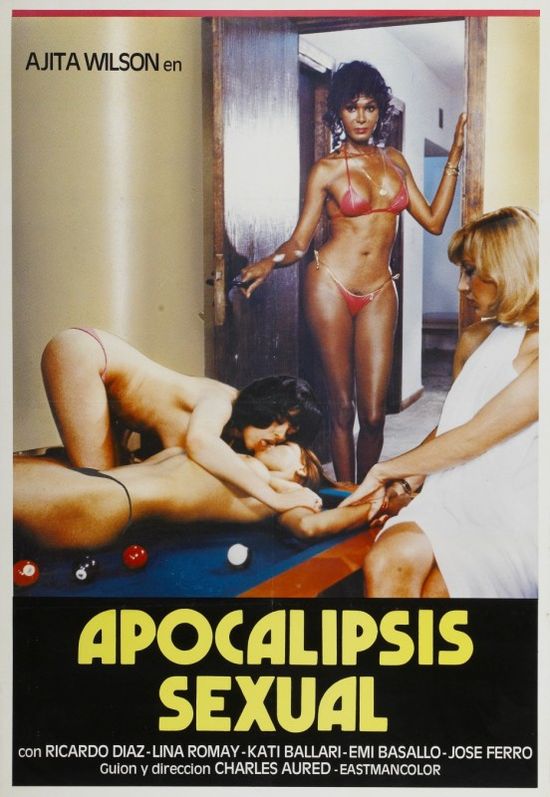 Year: 1982
Duration: 01:32:03
Directed by:  Carlos Aured, Sergio Bergonzelli
Actors:  Ajita Wilson, Ricardo Díaz, Kati Ballari
Language: Spanish
Country: Spain
Also known as: Sexual Apocalypse, Je suis une petite cochonne
Description of Apocalipsis sexual movie: Group of abductors who liked the beautiful virgin, steal it and are forced to play their sexy games. Pen Muriel falls in love with a favorite grouping, the beginning of a chain of cheating, jealousy and in the end result of homicide. Starring Ajita Wilson, who also played in Pussycat Syndrome movie.
Review: Watched this movie because of its attractive and pathos (in my opinion) a name that does not match the content. Well, I did not regret spent walking, because the picture I liked.
Pretty ordinary erotic film with lots of nudity and scenes of a sexual nature (especially lesbians). Looked at in the original language, that is, in Spanish, so that virtually nothing of the words are not understood. But there is nothing to understand and do not. The plot simplest, particularly acting is not observed (it is not required). Just a group of people having sex and find out the relationship between sex. As a thriller, no. All murders are happening at the very end and quite memorable. I advise you to watch the evening purely for recreation, also an actress is very beautiful (especially the main character). Both the Spanish sounds very erotic.
Screenshots:
Download: