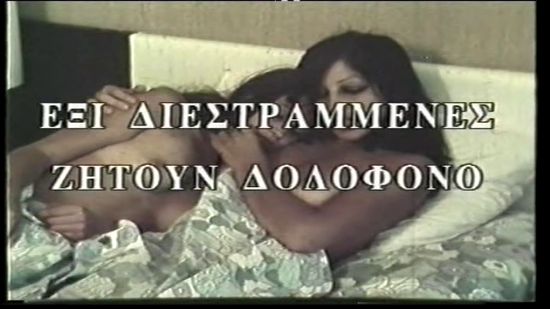 Year: 1976
Duration: 01:22:54
Directed by: Panagiotis Konstadinou
Actors: Anestis Vlahos, Tina Spathi, Angeliki Kyriakaki
Language: Greek (English Subtitles)

Country: Greece

Also known as: Exi diestrammenes zitoun dolofono | Six Perverts for the Killer | 6 Διεστραμμενες Ζητουν Δολοφονο | Eglima sti glyfada
Description: Wealthy businessman Paul and his wife Mirella decide to spend a few days at a seaside luxurious villa, located at Glyfada. They invite Nancy, who works in Paul's company  and her husband George, who is  Mirella's secret lover. Along with the 2 couples, comes Alexia, Mirella's protégé , who meets on her way  to the villa the young itinerant Michelle and invites him to join them. The 6 residents of the villa begin to conspire against ech other and murder doesn't take long to happen. 6 players, only one killer!!!
The original title was "Exi diestrammenes zitoun dolofono", the film was enriched with hardcore sex scenes ( unrelated to the film) and was released again under the title "6 Perverts for the Killer".
The 2 longer xxx scenes are fuckin hilarious and believe it or not, Godfrey Ho is the first thing that springs to mind. Let me explain, you have 2 of the male protagonists comfortably sitting in the villa's living room and enjoying their J&Bs while watching TV. What do they watch? PORN!!! In 1976!!! In national television of only 2 channels and the VCR boom still to come! FANTASTIC!!
Review: There's all sorts of threads and sub-plots in which the various characters are involved, and none of them make much sense, not to mention that most of those stay unresolved anyway :o)
There's a very flimsy 'black magic' element that never gets really explored, there's disco music, there's financial embezzlement, there's strip-tease parties, there's a mysterious cute stranger who turns their lives upside down for reasons we never fully comprehend (ala Pasolini's Teorema i guess), there's out of place moaning, there's a dozen female characters that give you a hard time telling one from the other, and of course, there's a couple of lengthy XXX sequences which are obviously inserted (ha!) arbitrarily to spice things up, and they even look better produced than the rest of the movie 😛
The weird and anti-climactic ending by the beach (which even features some Pink Floyd soundtrack) leaves a feeling of alienation similar to how an Antonioni film would leave the viewer disoriented and wondering.
I tell you, there's an art film buried somewhere beneath all this filth!
Screenshots:
Download:
6 Perverts for the Killer 1976