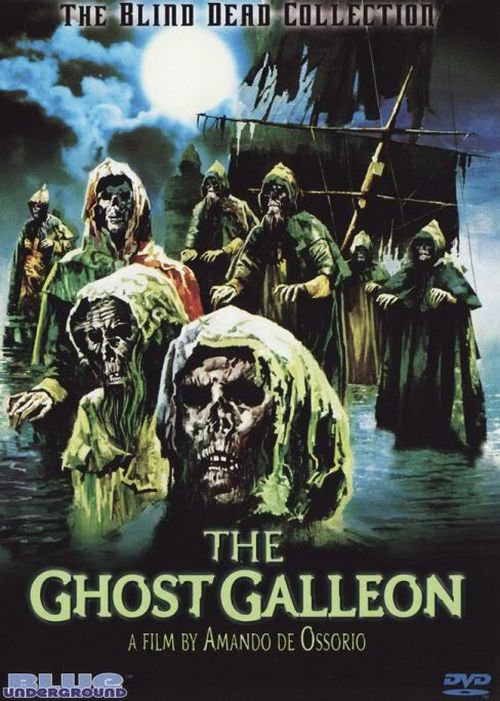 Year: 1974
Duration: 01:29:33
Directed by: Amando de Ossorio
Actors: Maria Perschy, Jack Taylor, Bárbara Rey
Language: English

Country: Spain

Also known as: El buque maldito | The Ghost Galleon |Horror of the Zombies |La nave maledetta | Zombie Flesh Eater
Description: As a publicity stunt, shipping magnate Jack Taylor hits on the ingenious scheme of stranding two bikini-clad models at sea in a small vessel so a passing ship can rescue them. And it would have worked, too, if it weren't for those pesky zombies. When a 16th-century galleon sneaks up on the models, they decide to board it, which simultaneously reveals why they chose modeling over academic pursuits, sets the stage for a zombie feast, and prompts Taylor to send out a search party.
Review: OK, so I haven't seen this one yet but it looks like an amusing diversion from the more serious toned first two films in the Blind Dead series. Two models get swept to sea on a small boat only to find a galleon full of nasty and hateful Templars…
This piece , called "The Blind Dead 3 : Ship Blind Dead ", directed by Amando de Ossorio , who also wrote the screenplay , and released back in 1974 , I did not like . First of all I want to say that it is already clear sequel. And he failed. He just copied everything to the last part . Every single one . Changed only that here the action takes place on a huge ship . Something of their own.
Copied everything from music to special effects. Even the slowest stage is involved , even overdone , as they appear here very often and more often than not to the point . I think that the creators wanted to just stretch film because nothing original or additional not invented, and wanted the film to be a standard , about an hour and a half . As barely pulled . I want to say that there is almost no blood at all . And the fear of not catching up and the film does not create at all, since all we have already seen before: this atmosphere , dark music , slow gait and threatening blind Templars.
Yet , barely as in this picture , I found some small and subtle pluses that still allow the film to be not a complete failure. For example, I liked the ending . Very unexpected . This includes the original about the ship, which, incidentally , looks pretty awesome. Can still be considered for the plus is that unlike the previous film , the majority of the main characters, the ship got killed because the gold found there and decided to pick it up , radioed for reinforcements to be taken , and for this Templars had time to get up and get to the thieves.
Screenshots:
Download: