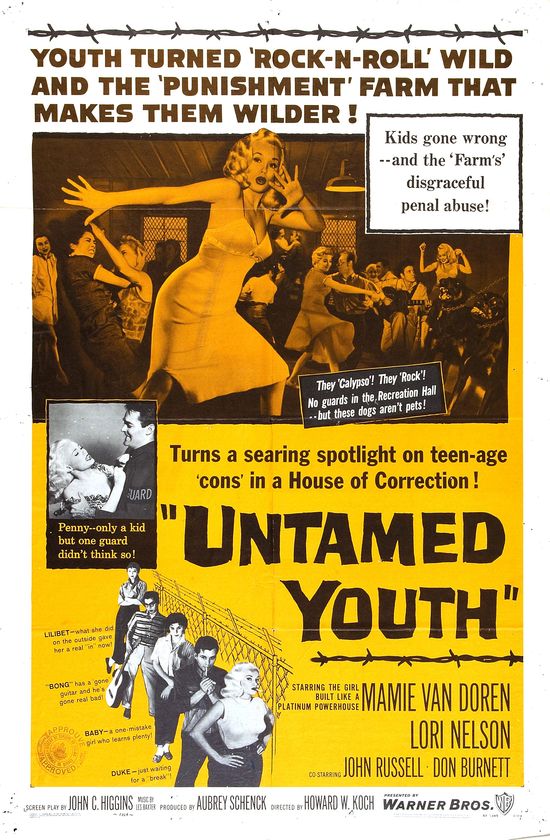 Year: 1957
Duration: 01:19:37
Directed by: Howard W. Koch
Actors: Mamie Van Doren, Lori Nelson, John Russell, Don Burnett, Eddie Cochran, Lurene Tuttle
Language: English
Country: USA
Also known as: Reife Blüten, Jóvenes rebeldes, Ragazze senza nome, Otämjd ungdom
Description: Youthsploitation meets W.I.P. meets the cantilevered breasts of Mamie Van Doren in this milk-fed, delinquents-gone-wild classic, the most delightfully delirious campfest this side of HIGH SCHOOL CONFIDENTIAL.
Set in a co-ed prison farm for feral juvies, UNTAMED YOUTH was actually shot on location in psychotronic heaven.  Moments to remember: Eddie Cochran rockin' in the cottonfields, the Nelson/Carmen catfight royale, the whiplash hips of Mamie V.D., the flounder-sized lips of Jeanne C., TEENAGE WEREWOLF's Yvonne Lime as the aptly named "Baby", REVENGE OF THE CREATURE's Lori Nelson doing a turbo-charged jive dance, Lurene "Ma Barker" Tuttle as love slave to John "Lawman" Russell.
No fooling, folks; this one's positively untamed (not to mention, unhinged).
Screenshots:
Download: