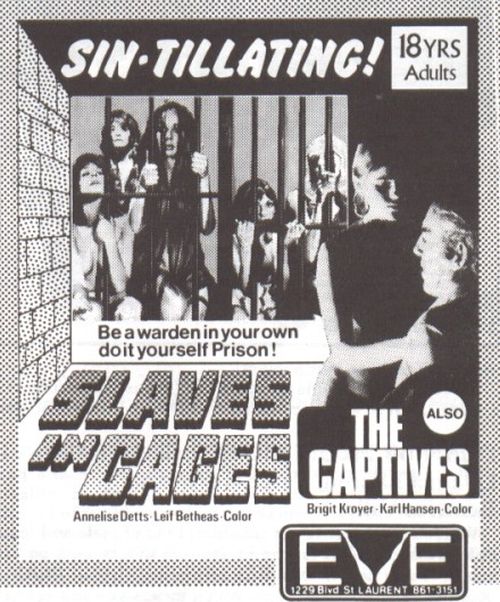 Year: 1972
Duration: 01:18:42
Directed by: Lee Frost (as Carl Borch)
Actors: Brigit Krøyer, Ray Sebastian, Orla Nsu
Language: English
Country: USA
Also known as: The Captives, Vi fagne, Slaves in Cages

Description:Quality is awful, the camera is especially shaky during the credits, but it gets better. The crappy quality adds to the ambiance — it also helps if you watch this in a room that smells like stale semen and disinfectant.
The Man: Lee Frost rates highly as one of the best, most talented and versatile filmmakers in the annals of exploitation cinema. Frost was born on August 14, 1935, in Globe, Arizona. He grew up in Glendale, California, and Oahu, Hawaii. He eventually wound up in Hollywood, where he started his career making TV commercials for the studio Telepics. Frost made his film debut with the early 1960s nudie cutie Surftide 77 (1962). He went on to make a slew of films in many different genres: tongue-in-cheek horror comedy (House on Bare Mountain (1962)), mondo shock documentaries (Hollywood's World of Flesh (1963), Mondo Bizarro (1966), Mondo Freudo (1966)), perverse softcore roughies (The Defilers (1965), The Animal (1968)), crime drama (The Pick-Up (1968)), westerns (Hot Spur (1968), The Scavengers (1969)) and even Nazisploitation (Love Camp 7 (1969), which has been widely cited as the prototype for the notorious Ilsa: She Wolf of the SS (1975)). A majority of Frost's 1960s features were made for legendary trash flick producer Bob Cresse. Moreover, Lee added sex inserts into such foreign films as London in the Raw (1965), Night Women (1964) and Witchcraft '70 (1970). [imdb bio  by Woody Anders]
The Film: The third of three Frost films credited to a production outfit called København BT, and allegedly made in Denmark — preceded by The Captives [1970]  and Ride Hard, Ride Wild [1971]. Captives seems to be unfindable
The generally-accepted story is that all three of these micro budgeted, non-sync-sound softcore quickies were made using short-end scraps of film and then passed off as Danish productions by Frost and his producer, Armand Atamian.
Rich playboy (with a bad Elvis hair-do) preys on innocent women, luring them back to his mansion, then knocking them out and locking them up! He makes them eat like animals out of food trays, whips and rapes them, and trains them to put on a sex show for his perverted pals (which is how he made his fortune).  [SPOILER DELETED by request] [Bill Landis and Michelle Clifford in the book "Sleazoid Express"]
Review:
Screenshots:
Download: