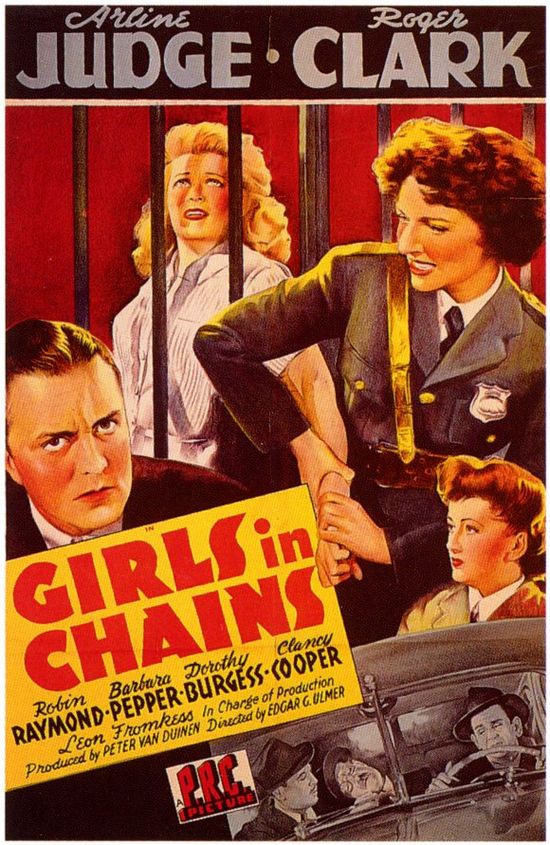 Year: 1943
Duration: 01:11:28
Directed by: Edgar G. Ulmer
Actors: Arline Judge, Roger Clark, Robin Raymond, Barbara Pepper, Allan Byron
Language: English
Country: USA
Also known as: Ragazze in catena
Description: You may be wondering why bother with a WIP from the 1940s.  No nudity.  No lesbians.  No Pam Grier or Linda Blair.  So what's in it for me?  For one thing, you get a history lesson.  This is what it was like in the old days of exploitation.  More importantly, the hairstyles these chicks are sporting make '80s big hair look like amateur hour by comparison.  It's hokey and cheesy and about as sleazy as they could get away in the dark days of the movie code.
Girls in Chains was chosen by National Film Museum for preservation and restoration, according to the titles that precede the film.  I don't know how this print compares with the original source but it's definitely not what you'd call pristine.  The video can go from light to dark from one moment to the next, there's a fair amount of grain present, etc.  This is old school, worn film look which I happen to prefer to the tape roll and sputtering you find on old rental tapes.  (Though I'm nostalgic for both.)  Regardless of the few faults, the print is still quite good quality and very watchable.
Like I said, this is how they did exploitation in the old days.  Download and educate yourself already.
Screenshots:
Download: