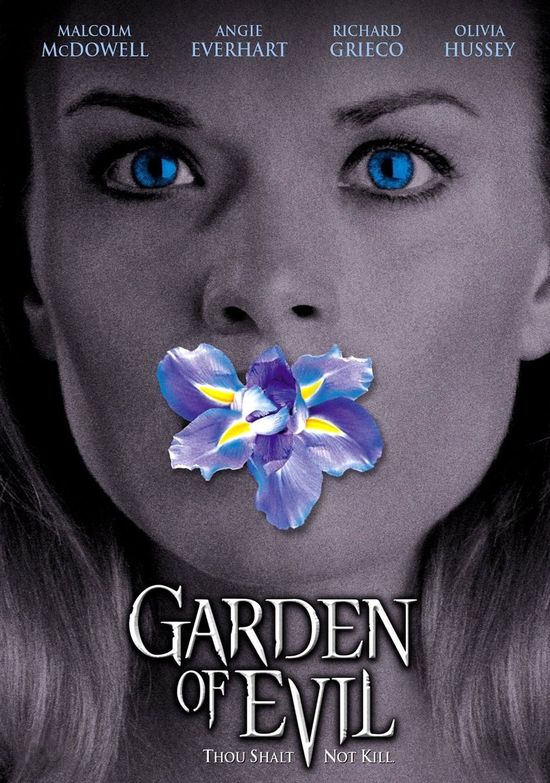 Year: 1998
Duration: 01:41:46
Directed by:  James D.R. Hickox
Actors:  Malcolm McDowell, Angie Everhart, Richard Grieco
Language: English
Country: USA
Also known as: Blumen des Bösen, El jardí del mal, Néma sikolyok, Garden of Evil, Silent Screams
Description of Gardener movie: Malcolm McDowell. The chances are if you frequent this site you think he is awesome. Don't get me wrong he is, but Malcolm should have been a big deal. He starred in the notorious A Clockwork Orange, he had acting talent and personality and presence. But years later he's making an cameo in Cyborg 3?! He's only a couple of notches below Jürgen Prochnow in inexplicable failures (I'm convinced that guy has been cursed by gypsies).
Anyway, if you want to tell your friends about the confusing lack of mainstream success that this poor man has suffered you're not going to find many finer examples than Garden of EVIL. In this film he plays second fiddle to Angie Everhart, a woman so dull you might even get bored at looking at her (admittedly pretty fantastic) boobs. In this film there is a scene where Angie plucks a flower from its stem at which point Malcolm flies into a rage, taking the flower from her and hugging and kissing it. The fact he's such a goddamn pro while playing a serial murdering gardener who feeds his flowers blood to make them grow larger makes the whole thing all the more depressing.
Not that you shouldn't download this because you should, because I spent like 15 minutes writing this crap.

Review:
Screenshots:
Download: