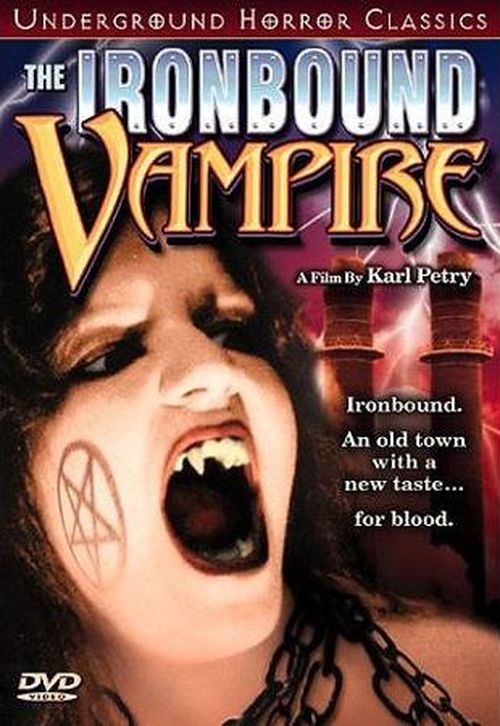 Year:  1997
Duration:  59:10
Directed by:  Karl Petry
Actors:   Dolores Fuller, Conrad Brooks, Deana Demko
Language:  English
Country:  USA / Canada
Also known as:  
Description: The movie Ironbound Vampire is such a piece of shit lol. Total amateur crud that looks like it was made w/ a shitty handheld home movie cam. At times they use a bad 'effect' to try and establish flashback scenes and it just looks horrid. This DVD has to be the worst quality & worst transfer ever. At times, especially in the flashbacks, it looks 'snowy' like you're watching TV w/ no cable & a bad antenna. THE DVD ITSELF LOOKED LIKE THIS. There was nothing I could do,so I kept the file size small.
I got this at a convention where I met Deanna Demko (The one w/ the big natural utters), and she was really nice, so I got roped into buying a couple of her movies. This is an orig. release of it, before it was sold(??) to Alpha, Milcreek & the like, where it now shows up on cheap umpteen-movie sets. I cannot say if the new releases of it look any better. There is an xvid on here, but you can still see the 'snowy' picture in some of the screenies on that torrent, so idk.. However that rip actually contains separate files w/ the extra features on it, so if you actually want that crap, you can get it here: The Ironbound Vampire (Conrad Brooks/Dolores Fuller)
In addition, this movie's big claim is having cameos by two actors known for their work w/ Ed Wood (Delores Fuller, & Conrad Brooks). Even w/ the badness that Wood films are known for, I still don't know why they'd want to be in this lol. However, for filler, & some redemption, we do have some T&A and a lesbian scene in this film, and we do see Deanna Demko's big natural floppers. So if you're in the mood for some 'utter' crap, & vampires (it is Halloween season after all), then go for ir. 
Screenshots
Download