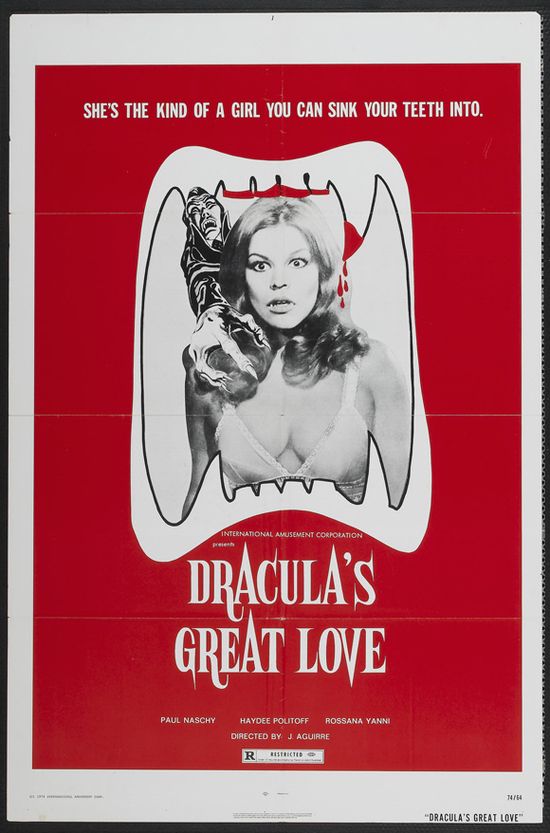 Year: 1973
Duration: 01:22:31
Directed by: Javier Aguirre
Actors: Paul Naschy, Rosanna Yanni, Haydée Politoff
Language: Spanish (English subtitles)
Country: Spain
Also known as: El gran amor del conde Drácula, Cemetery Tramps
Description: On the road through the mountain pass, horse-drawn carriage wheel loses, and Imre with four companions have found shelter in the old clinic doctor Каргоса, who was hanged for illegal hematological studies. Imre says that just in these places van Helsing and Jonathan Karen in due time killed vampire-count. Being in the hospital, girls find an ancient book, stating that the Dracula reborn when he sincerely loves a chaste virgin.
Review: Spanish horror- film industry in our country is not as well known as Italian, but in the meantime , and there were their legends … One of them was called Paul Naschy ( Empusa and Frankenstein's Bloody Terror ) , the other – Javier Aguirre . And let the most notable achievement for both ( for one – as an actor for another – as a director ) in 70th was filmed a year later , " The Hunchback of the morgue ," " Big Love Dracula " is also worthy of attention of all who are interested in the history of the genre. Well, I do well to fans – especially Dracula himself told …
The plot of the story is standard – traveling through the Carpathians four girls with the satellite fall into a very difficult position : the coach broke down , the driver was killed on a horse's hoof , the horse ran away and themselves . Only one way out – to be asked for the night in a lonely castle that grew up near the top of the mountain. And what with the fact that just a woman in a carriage with a sinking heart, listened to horror stories about this place. There is nothing to do … If you want to imagine what will happen in the future, do not have to be a fan of "horror " and review them with tons of bedtime . It is even known pupil of the senior group of kindergarten . And Senor Aguirre and his team expectations of the viewers were not going to cheat . Would like Dracula – get. Here he is handsome in a black cloak , cape with blood- red lining . It is this how you used to see him in cheap comics. And what with the fact that he is a certain Dr. Marlowe – there is only virgins clue … Until zagryzut , much to the delight of the venerable public . And to enjoy it became even more bite them primarily in the nude – do not forget the 70s in the yard, the sexual revolution … And what with the fact that the action allegedly occurs in the Victorian era – who cares?
Screenshots:
Download:
The Great Love of Count Dracula