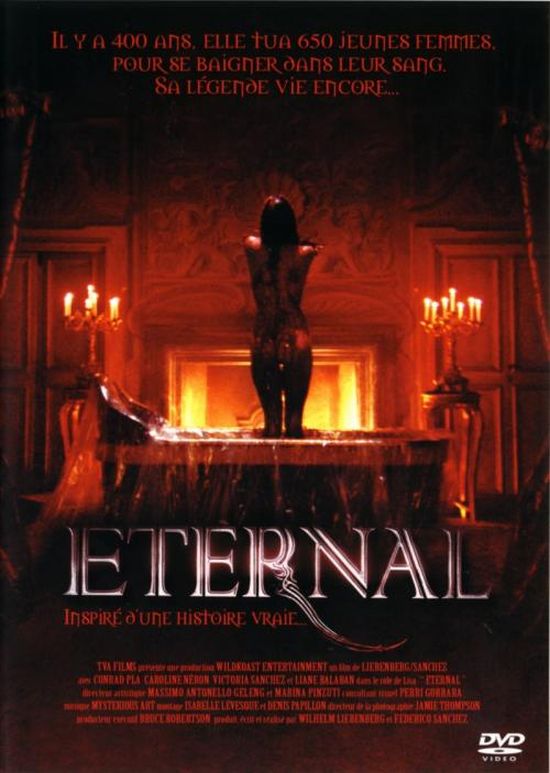 Year: 2004
Duration: 01:43:37
Directed by: Wilhelm Liebenberg, Federico Sanchez
Actors: Conrad Pla, Caroline Néron, Victoria Sanchez, Sarah Manninen, Ilona Elkin
Language: Canada
Country: USA
Also known as: Éternelle, Aioniotita
Description: The secret of eternal life, hidden under the cover of night, frightening, seductive and alluring evil, pain, fear and desire …
Review: The film Eternal is desperately similar with Basic Instinct. Instead of wily temptress Sharon Stone here appears no less sexy blonde Caroline Neron, while Michael Douglas is replaced by Detective Conrad Pla. The search for the missing wife leads detectives to a luxurious mansion, in which lives Elizabeth, who saw his wife. Trying to understand what led the his wife to this strange woman, the detective falls in the cycle of events, gathering around him new victims. What unites them is that they all are women.
The basis of the film lies the legend of a bloody Countess Bathory, who was famous for the fact of bathing in the blood of young virgins in order to gain eternal youth. By the way, you can find a lot of movies with this character, like Bathory or Ceremonia sangrienta
In the film there is a lot of beautiful light erotic scenes, mostly with lesbians, good music and pretty cute actress – all this makes the mysterious detective story in a sad tale about eternity.
Screenshots:
Download: