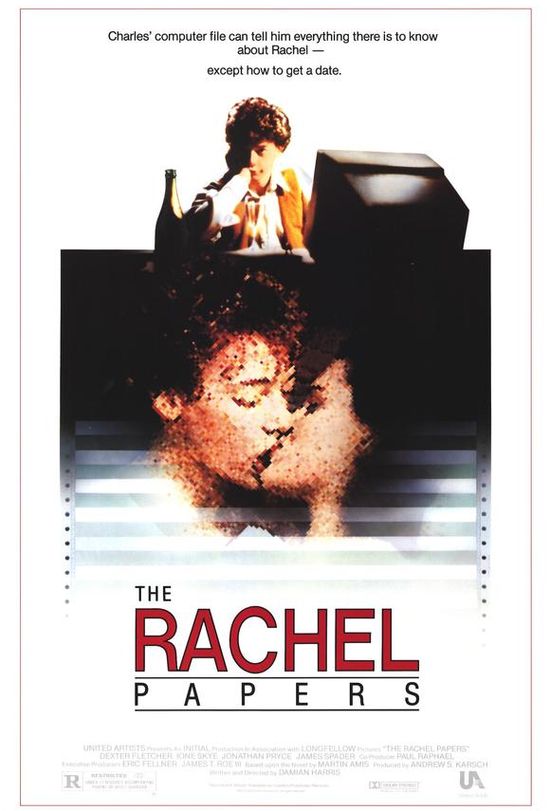 Year: 1989
Duration: 1:34:54
Directed by: Damian Harris
Actors: Dexter Fletcher, Ione Skye, Jonathan Pryce
Language: English
Country: UK
Also known as: Namoros Eletrônicos, Seducir a Raquel, Le dossier Rachel, Pos erixa tin Rachel, Hódító PC-ABC, La ragazza dei sogni, Er? Will! Sie Nicht?
Description: The main character (19 year old guy) quickly learned to seduce girls. In this case, each was your dossier to strategize and quick tactics "to get" beauty. Mechanical add to the database of his victories, he accidentally fell in love.
Charles has a whole system for the seduction of girls. Each gathers information, then develop an individual approach, style of dress and even the design of the room. After all, someone give a poetry and languid eyes, and someone who likes rock band and bad boys. And all went well until he met Rachel, a gorgeous brunette, who for all his visits are just not paying attention. Especially her and the guy was rich, arrogant pretty boy. But our Charles hard guy, especially when the prize is such a Princess.
The film almost to the finals stubbornly pretends youth Comedy about the basics of a pickup truck where the guy is chasing too difficult prey, slowly falls in love with her. And in the end suddenly stops, as all normal romcom, happy end, and takes and tells what happens next. That crazy sex is good, but the rose-colored glasses slowly slipping down and you suddenly discover that Princess poop is not a rainbow. And with all the love you suddenly begins acutely annoy her habit of piling up dirty dishes under the bed or voiceless sing bass some pop stuff. And the coveted life together with his beloved suddenly turns into a serious challenge.
However, while the witch is a movie turned out pretty mediocre. In trying to seem more serious than necessary here and then get distracted by superfluous characters with their everyday teachings. The sex scenes feel given not less than twenty minutes and that too in a strange way stretches the movie, and it's only an hour and a half goes. But still a curious thing. The actors again, not bad: eccentric Jonathan Pryce in the role of guru and brother-in-law. Brunette from my favorite "Say Anything…". The main character suddenly appeared a young and blue-eyed Soap from "lock, stock..", I did not expect a romantic character to see him. The spader plays the role of "pushed" guy, and I really liked the scene when Deforest high-tailed it home to Charles for his girlfriend and almost caught them kissing on the floor. And you can see that he's just physically look at them not, going along the wall, silently examining paintings and glanced at them furtively. Very hard turned out.
Screenshots
Download