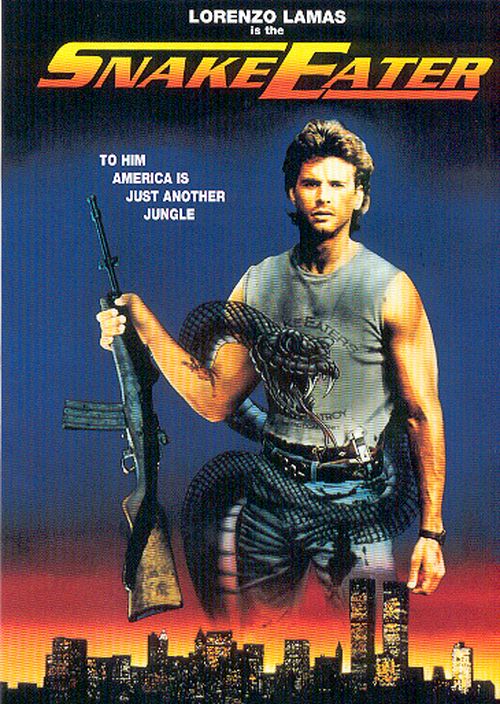 Year: 1989
Duration: 01:34:33
Directed by: George Erschbamer
Actors: Lorenzo Lamas, Josie Bell, Robert Scott
Language: English
Country: Canada
Also known as: Comando Cobra, L'Indomptable, Az exkommandós, Snake eater – vendetta a tutti i costi, Cobra Ataca
Description:A former marine Jack Kelly, retaining the leveling of the brave American soldiers, military nickname «Soldiers» and skills «green beret, is not necessary at the heart of the civil police, which prefer to hunt on drug dealers, sitting in wait under the roof of the car.
Served in the OU with the code name «snake eaters» Jack Kelly comes into direct contact with the criminals, using his personal experience of survival in Latin American jungle. And being suspended from work, he continues this experience to apply the same effect to avenge the dead parents, and rescue his sister Jennifer from dirty paws gang of maniacs selling «human commodity».
Review: This film did Llamas (Terminal Justice) famous star of the class "B". Though the film was not particularly successful.
Llamas are very charismatic hero, his character is very cool, he's a former CIA agent department, he's mad and savage, and of course a handsome man, and a lover of vylazit and climb out of trouble.
I looked this film is not so long ago, although films Lamas look of childhood. About the movie, it turned out not bad (certainly not the best alyaLAMAS), the story and the quality of the movie is quite something, is not particularly the actors very much (except of course the young Lorenzo.) Liked the ingenuity of the hero and the hero himself.
The film has turned out quite good, even great, I think he would have been on for five years before made, it would be no less famous than the "American Ninja".
Screenshots:
Download: