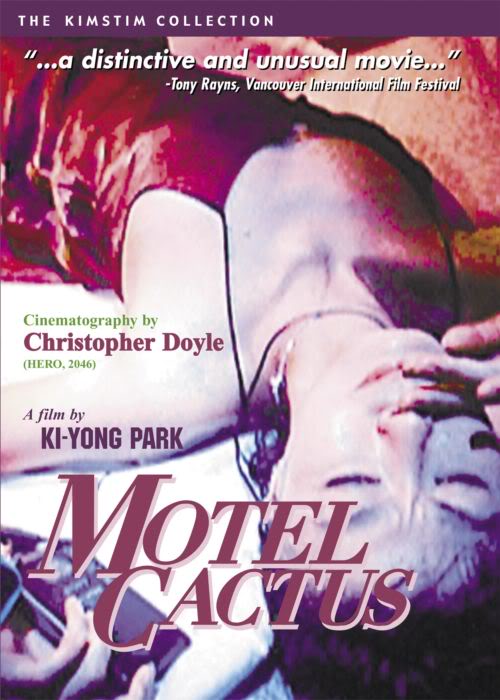 Year: 1997
Duration: 1:31:55
Directed by: Ki-yong Park
Actors: Woong-soo Han, Hee-kyung Jin, Woo-sung Jung
Language: Korean (English Subs)

Country: South Korea
Also known as: Motel Seoninjang
Description: A film set almost completely in one room – Room 407 of Motel Cactus in Seoul. Divided into 4 episodes, Motel Cactus attempts to explore 4 stages and types of romantic relationships. In the first, a woman celebrates her birthday with her boyfriend but soon makes a disappointing discovery. Next, a couple of film school students are hoping to shoot an project assignment in the motel room. The third story revolves around a drunk couple who meet at a bar and arrive at the room before indulging themselves in a series of drunken games and revelry. Finally we have a couple trying to rekindle the romance they shared back in college.
Comprised of four segments, with a woman and a man in each, meant to fit together by the end of the movie. Each story occurs within the same hotel room at the Motel Cactus.
The first segment has a woman and a married man meeting on her birthday. Even thought they are bond together by great sex, there is something missing.
The next segment has two students pounding away at the production of a college film in the room. But more than film will be pounded, with the lady losing her virginity.
The third segment has a lady renting the room to contempate a failed relationship that ended in the same room. Deciding drinks might help her memories and sadness, she hits the bar, gets picked up, has a bit of fun in the room, and then leaves while the man is sleeping.
Finally, we have a divorced lady missing her man. The man, it turns out, is the same one from the third segment. Somehow they appear at the room and try to rekindle the old flames.
Screenshots
Download