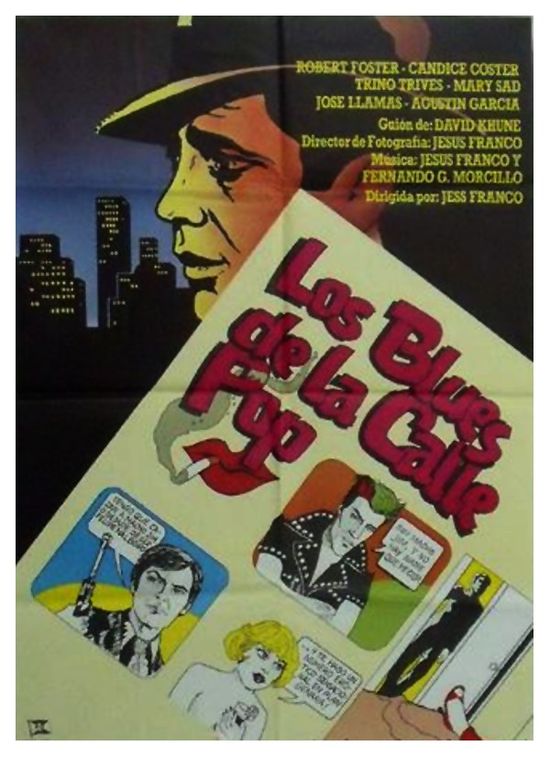 Year: 1983
Duration: 1:23:38
Directed by: Jesús Franco (as Jesus Franco)
Actors: Antonio Mayans, Lina Romay, Trino Trives 
Language: Spanish
Country: Spain
Also known as: Aventuras de Felipe Malboro, volumen 8
Description:
This is Jess Franco's hipster love poem to Raymond Chandler, "Blade Runner" and cigarettes. Quoting Robert Monell by way of synopsis:
"SHIT CITY (actually, Benidorm): Felipe Marlboro, capably incarnated by Antonio Mayans ("Robert Foster"), is a seedy private investigator who takes up a missing person case at the behest of the girl friend of "Macho Jim" (Jose Llamas) in the punk infested coastal resort. The plot has Marlboro enlisting the aid of piano player Sam Chesterfield (played by Jess Franco himself) in an all out effort to bust the town's drug and dirty money kingpin Saul Winston (Trino Trives)."
Also starring Candy Coster (Lina Romay) as Jenara Butterfly, Analia Ivars as the punk girl, and narrated by Ricardo Palacios.
This is a step toward an ultimate upgrade of this important comic strip noir film from Franco's 1980s period.
Screenshots
Download