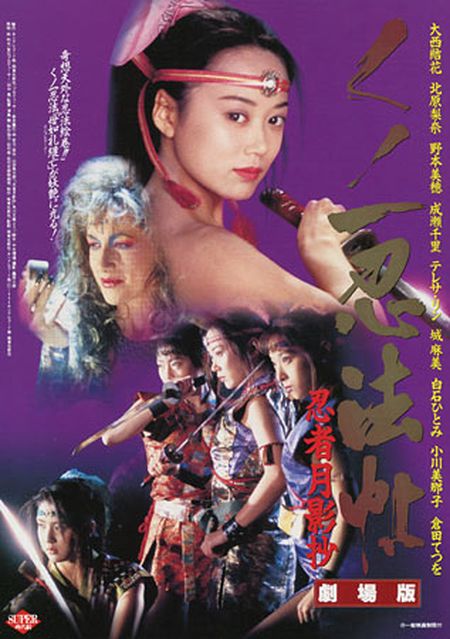 Year: 1996
Duration: 01:19:43
Directed by: Masaru Tsushima
Actors: Yuka Ohnishi, Tetsuo Kurata, Rina Kitahara
Language: Japanese
Country: Japan
Also known as: Lady Ninja: Reflections of Darkness, Kunoichi ninpô-chô – gekijô-ban: Ninja tsukikage-shô, Kunoichi's Book of Ninja Arts: Shadow of the Ninja's Moon Story
Description: Authentic costumes and sets with top-rate photography give this production higher marks than it deserves. It's a tale of old Japan when the Shogun in a time of austerity lives a salacious life with his seven mistresses now rejected from his household.
In order to destabilise the Shogun political opponents hope to expose him and his life of lust. Aware of this he declares that the remaining three women will be annihilated before they can spread gossip about the sexual romps. The female ninja are then called upon to use their magical powers of destruction.
The film exploits all the supernatural trickery which the ninja use against their foes. Some amusing but impossible stunts are performed including the "third leg hell", "ball bag lanterns", "milk of kindness" and topping the lot "the balls of five colours". While very original these scenes are an excuse to display female nudity in some strange antics.
While the costumes are clourful the characters are mere two-dimensional figures in a series of violent scenes where the ninja sword play is prominent with the sound of clashing steel. One character remarks "We are ninja….we must not show sympathy". That is evident as opponents are quickly despatched…even the Witch of the West who has a large crucifix emblazoned on her forehead.
Amongst all the nonsense the quality of the photography is quite remarkable and exciting. It is best in the scenes where mist drifts among the forest trees at night.

Screenshots
Download