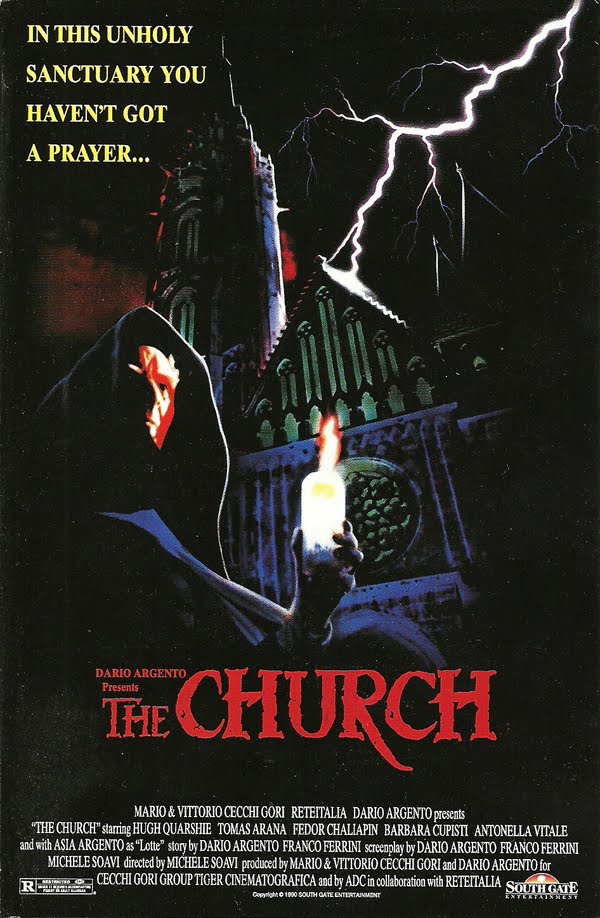 Year: 1989
Duration: 102 min.

Directed by: Michele Soavi
Actors:  Hugh Quarshie, Tomas Arana, Feodor Chaliapin Jr.
Language: English Surround | English Stereo

Country: Italy
Also known as: La chiesa (Original Title), El engendro del diablo, Demonzu 3, The Church, Cathedral of Demons

Aspect Ratio: 1.85:1
Description: An old Gothic cathedral, built over a mass grave, develops strange powers which trap a number of people inside with ghosts from a 12th Century massacre seeking to resurrect an ancient demon from the bowels of the Earth.
Michele Soavi (born in 1957 in Italy) began as an assistant director for Dario Argento and the late exploitation king Aristide Massacessi before finally having the opportunity, by Aristide, to direct his first feature film, Deliria aka Stage Fright in 1987. That film was a great example of his talents and it remains as one of the most suspenseful and inventive of the later day giallo related horror mysteries to come out from Italy. He also directed the atmospheric La Setta aka The Sect in 1991 and Dellamorte Dellamore in 1994, neither of these being as wonderful as his second film, La Chiesa aka The Church from 1989, co-written by him with Dario Argento and Franco Ferrini.
The film opens with a slaughter of some sixteenth century village and its people as they're suspected of devil worshipping and other unacceptable anti-religious things and so they get brutally killed and left dying, buried alive. A huge cross was left on them to make it impossible for the demons to rise again and also a church was built on the corpses. In present day, the huge cathedral is still there and serves very fine and safely until someone goes a little too far and plays with things that should have been left alone, resting in peace. Soon the spirits rise and devilish goings-on begin for the unhappy people who get trapped inside the huge church. But what really matters in this film is the talent of Soavi and his wonderful visual style and details to tell the story.
The cinematography is always interesting in Soavi's films and La Chiesa, too, is full of wild camera drives and smooth movements as well as menacing angles to tell about the forthcoming terror. The details I mentioned are, for example, those black statues that inhabit the church, some of which can also be very alive! Stage Fright has a very creepy usage of equally "dead alive" dolls that are captured on film with great power proving how Soavi can nail his audience to the seat with such simple images and things. Especially in La Chiesa in which we never even get to see the statues' dark faces..All the more ominous and wonderful.
The various monsters and devils that rise from the beyond are also convincing and maybe because of they're not shown too much or for too long. They won't look unintentionally funny and laughable but pretty effective especially at the very end. The effects and bursts of infernal gore are pretty graphic but in a very aesthetic way, never becoming too gross or revolting in this fairy tale they're present. The effects are by Sergio Stivaletti who has done effects for many Italian films like Lamberto Bava's Demoni (1985) and Dario Argento's La Sindrome di Stendhal (1996). The film gets also a little surreal at times which is of course great, and among the most memorable parts are the scenes depicting the abyss under the church..as nothing like it is supposed to be there and it all is just too living, again visualised with great usage of camera.
The incredible Italian rock band Goblin has made many immortal soundtracks for Argento and their (Keith Emerson) music in La Chiesa is equally hypnotic variation of the conventional church organs with the usual Goblin elements like repeated lines that are very effective and make the viewing experience again very intense. This must be among the greatest things Italy has given to the world of (movie) composers, alongside such other masters like Riz Ortolani (Cannibal Holocaust), Ennio Morricone (Leone, Il Grance Silenzio plus so many others), Fabio Frizzi (the Fulci composer) and so on. But for the horror genre alone, Goblins are probably the most powerful masters.
Few flaws in the film can be found in the last third that is more tired than the wonderful first hour that preceded it. They just try to explain too much something that wouldn't need or wouldn't even be too possible to be explained and that is very frustrating as it doesn't give anything to the suspense and terror atmosphere that has been created, only effectively tries to weaken it as the viewer starts to feel uncomfortable and also bored. Surreal and supernatural goings-on don't always have to be explained in cinema, let the images explain alone. Also some of the dialogue is a little exaggerated but that may be only in the English dubbing as the film has been widely distributed with the dubbing. There's also some bad and confusing editing especially near the end when things start turn more dramatic but other than these, La Chiesa is another horror masterpiece by Soavi, who has so far made only few horror films (plus a very interesting Argento documentary Dario Argento's World of Horror, in 1985) but who has also proved great talents and ideas to make the already wonderful Italian horror cinema genre even more masterful.
La Chiesa is 8/10 and a very noteworthy example of Italian gothic horror cinema with beautiful settings and locations and equally stunning usage of camera, fantasy and sonic elements. ~ IMDB
Screenshots
Download