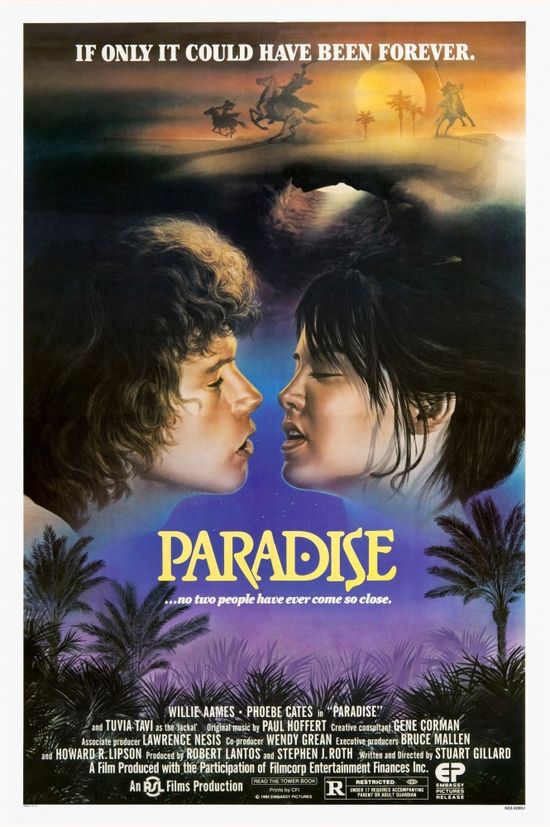 Year: 1982
Duration: 1:32:17
Directed by: Stuart Gillard
Actors: Willie Aames, Phoebe Cates, Tuvia Tavi
Language: English
Country: Canada

Also known as: Paraiso, Paraíso Azul, Paradiset, Paradis, Raj, Das blaue Paradies

Description: Phoebe Cates' debut movie, and what a cracking piece of cinematice ordure it is. Imagine The Blue Lagoon with less plot, worse dialogue and more nudity and you're pretty much there. Also, unlike Ms Shields, Phoebe (aged a mere 17) did all her own nudity (apart from the sex scene closeups which look nothing like her). You may wish to stay well away if youthful nudity offends you…

1823. A caravan from Baghdad to Damascus is preparing for departure. In it together with merchants traveling the pretty young Englishwoman Sarah accompanied by a guard and American teenager David along with his parents. When the caravan is attacked by the notorious slaver, nicknamed "the Jackal", in live there are only David and Sarah.
It seems that they can't avoid death in a hot desert. But, wandering through the Sands, they find a tropical oasis that seemed a real Paradise. This place becomes their home. David and Carucate survival from nature, but the very important thing — they discover each other and realize that you can't just be friends.
But whether heavenly oasis to shelter them from the Jackal, who dreams of turning Sarah into his new concubine?
Screenshots
Download