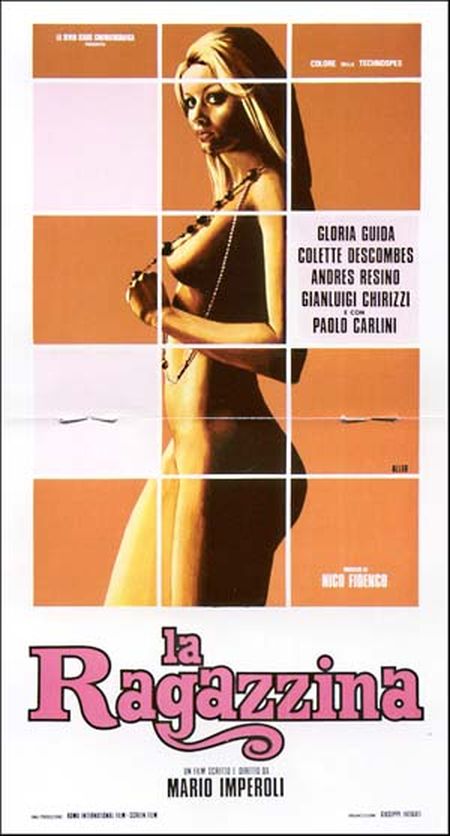 Year: 1974
Duration: 01:22:51
Directed by: Mario Imperoli
Actors: Gloria Guida, Colette Descombes and Andrés Resino
Language: Italian (English subs)
Country: Italy
Also known as: Kesse Teens – Die erste Liebe, La lycéenne découvre l'amour, Mónica e o Amor
Description: Monica is young, beautiful and a virgin. She's only 16 years old, and she has already attracted the attention of classmates and seniors. She has friendship with a boy, Leo, but she does not know what he is a pimp, who offers young innocent girl to rich businessmen. One client falls in love with Monica and gives Leo huge money to get her. But Monica turns her attention to her teacher, not knowing that he also has his secrets ….
Review: Gloria Guida(Being Twenty) plays a is a sixteen-years old high school student, called Monica. Her boyfriend works for a pimp. Of course, Monica doesn't know nothing about it. However, despite the fact that she has a boyfriend, she wants to be with her Arts teacher, whose name is Bruno. Bruno loves Sandra. Husband of Sandra is Massimo. He is that pimp. And he desperately wants to fuck Monica.
Love and betrayal – are the main ideas of ​​the film. With no experience of life, a carefree schoolgirl ready to trust anyone, for what she pays with her tears. Gloria Guido, this time is playing very natural, she cries and laughing … No complaints about the acting game here, it very good
The protagonists (Gloria Guido, Paola Carlini and Gianluigi Chiritstsi) will be starring later in "Blue Jeans", directed by the same same Mario Imperoli.
Screenshots:
Download: