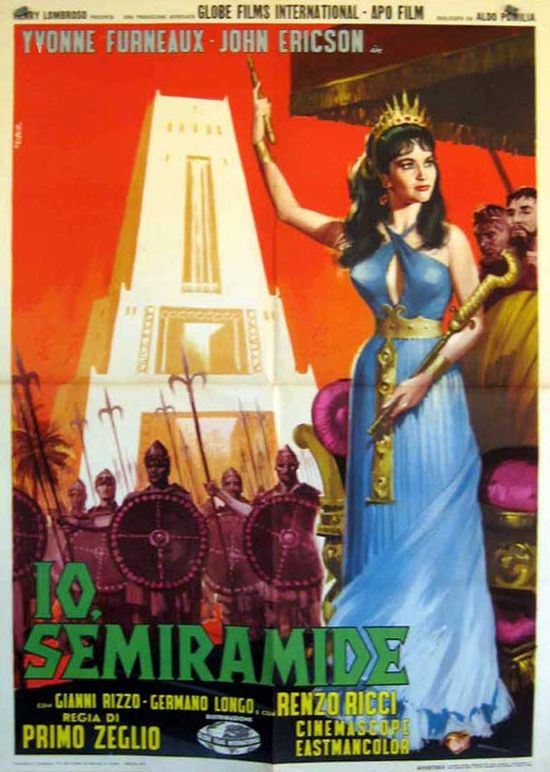 Year: 1963
Duration: 1:21:57
Directed by: Primo Zeglio
Actors: Yvonne Furneaux, John Ericson, Renzo Ricci
Language: English
Country: Italy
Also known as: Io Semiramide, Duelo de reyes, Sklaven der Semiramis, I Am Semiramis, Semiramis.
Description:
As another great and rare filler for our fantastic project, Primo Zeglio's Io Semiramide is a sadly forgotten epic telling the tale of Semiramis (Yvonne Furneaux), the beautiful Queen of the Assyrian people, during its reign of Mesopotamia Assyria reaches periods of great splendor, and in order to crown its successes it gives the order to construct the great city of Babylon.
Semiramis is in love with Kir (John Ericson), an enslaved reciprocated prince. Their life passes happy and without worries.
Certain plotters succeed to remove Kir from the Queen and convince her that he had betrayed Semiramis with an other man; Furious Kir is put at the head of the conspiracy against his mistress….
Reconstruction of the life of mythical queen Semiramis, and her quest for the throne of Babylon. She initiates an ambitious plan to achieve absolute power, in which she will not hesitate in squashing anyone that gets in her way. After doing away her husband, she initiates a romance with Kir, the head of a enslaved enemy tribe. This will lead them both through a labyrinth of passions and intrigues, culminating in a final climax of destruction and violence. One of the most interesting titles in the Peplum genre, with veteran actors of the sort like John Ericson. The best thing is the portrayal of Yvonne Forneuax as Semiramis.
Screenshots
Download