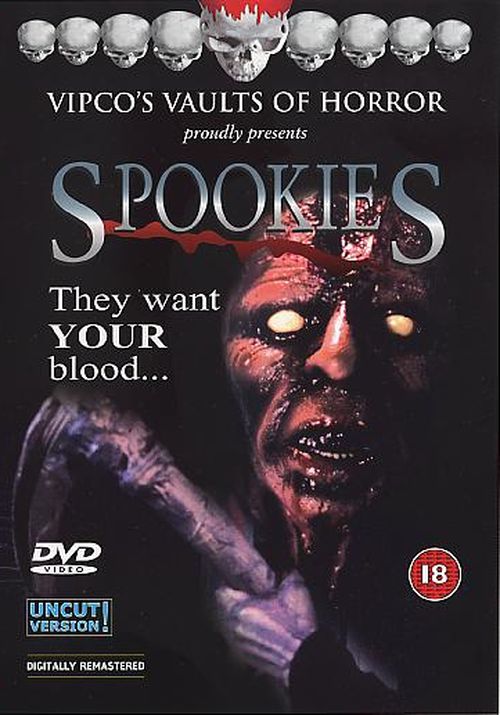 Year: 1986
Duration: 01:21:00
Directed by:  Genie Joseph, Thomas Doran
Actors:  Felix Ward, Maria Pechukas, Dan Scott
Language: English
Country: USA
Also known as: Goblin, Duchy,

Description of Spookies movie: A fun horror movie that combines elements from Evil Dead, Night of the Demons and Phantasm. Taking a wrong turn, travelers find themselves trapped in a mysterious house. One horror after another threatens them as the sorcerer who lives within needs sacrifices to give eternal life to his beautiful bride.
Review: The film " Spookies" is a representative of the horror classic , combining a variety of stylistic genre under the general concept of "a group of people come in the house … damn ." When his little timing and abundance of events and scenes involved in the picture, it looks a bit messy , preventing the action unfolds to reveal nature of the characters . On the other hand , the film pleases wonderful makeup and its variety of ways to scare .
Here we show for the crowd of zombies and vampires , and villain – sorcerer , and one of the guests in an eerie structure of people almost instantly turn into creepy witch and a puppet in the hands of the owner cursed abode. The rest of the face with a lot of monsters and creatures , including a giant spider monsters of mud, desiccated corpse and many others. In the picture there are all so loved by fans of horror horror techniques , ranging from sharp and unexpected jumping down to atmospheric stresses and experiences for some of the characters .
Acting game can be divided into two types. All the villains and monsters turned amazing. In addition to elegant makeup, playing villains really believable and realistic. And here at the main characters, in the tradition of horror , eternal problems with logic, awkward dialogue, and not particularly expressive behavior. But this is not so much spoil the tape itself as their acting. If witches and vampires played fine, ordinary people came out not too memorable, and certainly not disclosed because of the duration of the film. Thus one played well , others not so.
The film was shot by three directors , which explains the diversity of genre references . Everyone , apparently , was his eyes and his vision of horror , resulting merged into a beautiful kaleidoscope of monsters. Filmed pretty high quality and interesting , well chosen angles, well set the scene , and not all of the dialogue here is absurd and ridiculous , as in many other films of similar subjects . The picture is very reminiscent of the movie " Exorcist " ( aka " The Tempter ") , but there is much less of humor , which is undoubtedly a plus of this film . Have little similarity with the " Evil Dead " , but this tape again, more serious and thankfully devoid treshovosti and delirium. Here we see the real horror is absorbed and creates the best traditions of many genres , setting an example for further pictures. Perfect representative of horror 80s , one might even say classic and brilliant example.
Screenshots:
Download: