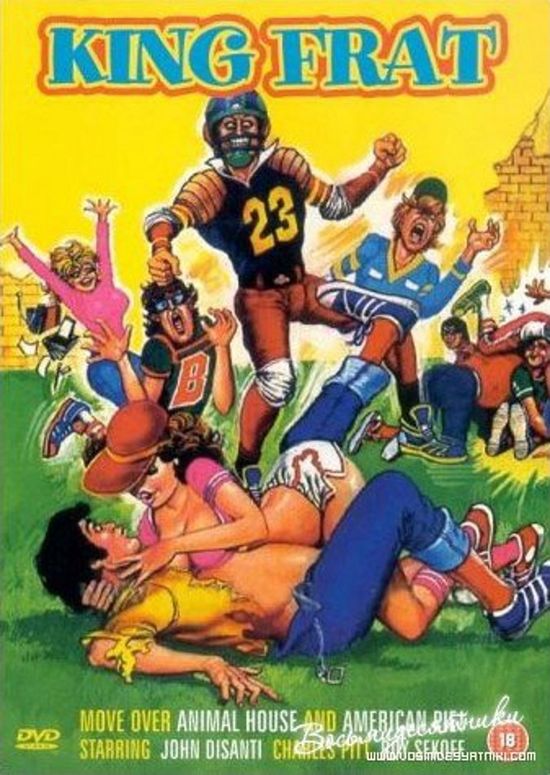 Year: 1979
Duration: 01:25:12
Directed by: Ken Wiederhorn
Actors: John DiSanti, Charles Pitt, Roy Sekoff
Language: English
Country: USA
Also known as: Delta House
Description: "Holy Shit! … Fart Contest!!!!"
Ah, the fart joke. The most timeless joke of all time. And also the inspiration for King Frat, a film, directed by Shock Wave's Ken Weiderhorn, that's so obviously inspired by the success of Animal House that I was surprised to find out that the lead characters name was Gross Out, and not Bluto.
Our story revolves around the misadventures of the Pi Kappa Delta sorority house. These guys like to drink, make crude jokes, play bad practical jokes, peek in on girls, and fart. A lot. In fact, I would go so far as to say that these are the fartiest movie characters I've ever seen in a feature film.
Anyway, to their surprise, the local paper decides to hold the first annual fart contest, in which contestants fart into a fart-o-meter which measures the magnitude of their farts, and compete for a $500.00 cash prize. Seeing as the Pi Kappa boys are always low on funds because all the do is drink and fart, they get Gross Out to enter figuring with the help of Chief's magic Native American fart elixir, there's gonna be no competition for him.
Well, things for wrong when Bucky, Gross Out's ex-girlfriend, shows up and is able to out fart him, as a local dog wanders in out of nowhere and drinks the magical fart elixir, which is so potent it causes his farts to propel him through the air.
Pretty much everything that happens after this is unrelated in any way except that it features the boys playing pranks, farting, and getting into trouble with a more conservative sorority whose members obviously don't appreciate fart jokes.
King Frat is a stupid, stupid movie. Seriously stupid. It's basically just one big fart joke, and if you don't appreciate fart jokes, you're likely going to hate it. My wife, who I watched this with, isn't quite the connoisseur of fart jokes that I am, was thoroughly unimpressed. I have to admit though, that I do find fart jokes funny and this movie made me laugh a few times. Sure, it's really poorly done, all the Pi Kappa members look like they're about forty years old, it's sexist, it's very politically incorrect and probably offensive to a lot of people but I still laughed.
Screenshots:
Download: