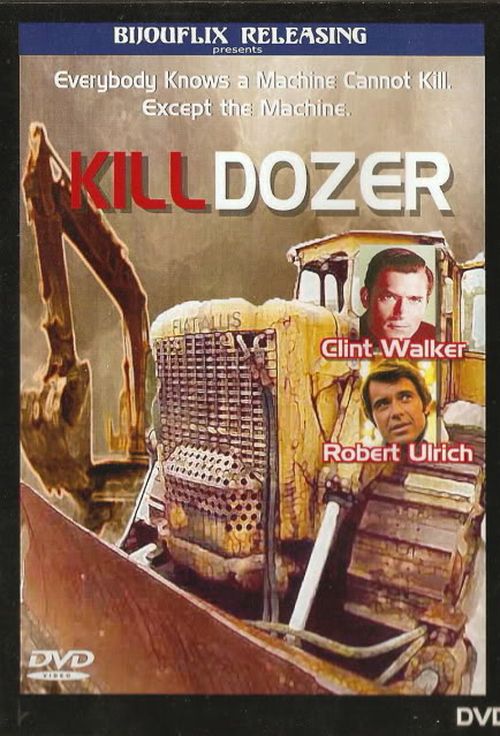 Year: 1974
Duration: 01:13:39
Directed by: Jerry London
Actors: Clint Walker, Carl Betz, Neville Brand
Language: English
Country: USA
Also known as: Satsujin burudôzâ (Japan)
Description of Killdozer: A meteorite falls onto a little island on the Pacific and remains undisturbed until a construction crew in charge of a landing field comes across it. As they attempt to break the rock from their path and then the energy of the meteorite causes an accident as the energy it contains is passed onto the Bulldozer they are using. The machine then gains a will of its own and starts killing all the humans on the island.
Review: Reminds all the preposterous 1950's science fiction stories that we love, only without the fearful innocence. Only even worse as the story is neither logical nor interesting. It is a TV movie without any real skills.
There were a number of good "Made For TV" movies made during the 70's. Is this one of them?
The idea for the story of "Killdozer" is a good one. An unknown unseen life-force, alien to our earth is accidentally released from its millennia of slumber. It enters a bulldozer brought by a construction crew sent to build some project on a remote island. Square jaw crew includes Clint Walker, a young Robert Urich, plus an old and washed-up Neville Brand.
The rest of the movie is spent with the crew as they fight this alien menace in a fierce battle for survival.
This type of plot device (murderous machines) was popularized by Steven Spielberg's breakthrough TV movie "Duel," also made in the 70's.
Screenshots:
Download: