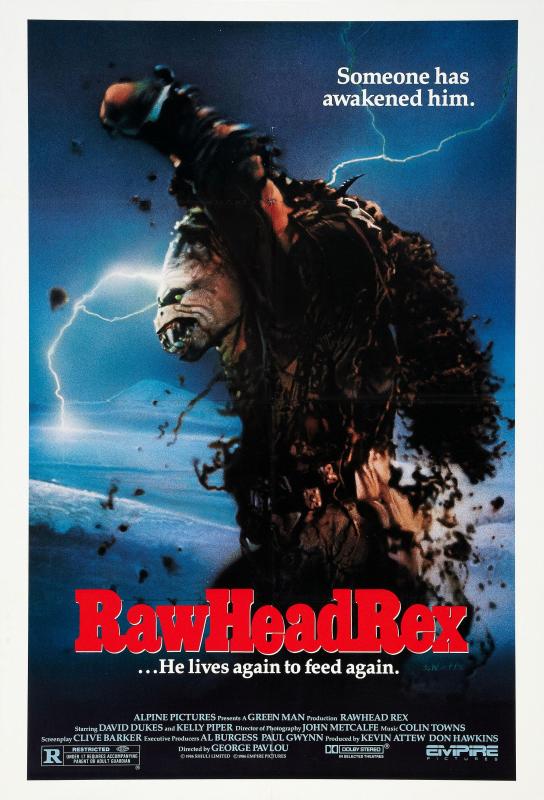 Year: 1986
Duration: 01:29:30
Directed by: George Pavlou
Actors: David Dukes, Kelly Piper, Niall Toibin
Language: English
Country: UK | Ireland | USA

Also known as: Clive Barker's RawHeadRex – Er ist das Grauen, El sacristán del diablo, Monster – A Ressurreição do Mal, Raakalainen
Description: My god this is bad! How can the great Clive Barker the creator of Hellraiser stoop so low to stick his name next to this tripe? The acting is bloody awful,Mr.Rex looks like something of blue peter,sticky back plastic and flashing lights, come on give me a break.
I actually watched 49mins before i skipped to the end to just watch Mr.Rex's downfall, this was the only good part of this bloody awful thing, no not the downfall of the big scary man in a suit,it was the credits because you know that no more crap is going to be thrown against your screen.
Writer horror stories Howard arrives with his family in the Irish countryside to find new subjects for their stories, where he got interested in the old Church with unusual stained glass Windows depicting the defeated demon.
Simultaneously with the arrival of the writer stupid redneck opened large boulder, which was lurking evil, firing on freedom of the demon. Resurrecting the monster begins to dominate the human soul, slaying and eating the disobedient.
Review: Howard – writer, which creates the horror stories they bring to him a very good income. In search of inspiration Howard comes in a tiny Irish village, but he does not even assume that it was there for.
Film «Rawhead Rex» – filmed in 1986 Director George Pavlov (the film maker of the Underworld movie) according to the scenario of the iconic British masters of horror genre Clive Barker, taken as a base own story «King of the Bloody Head». Though currently this tape thoroughly forgotten, she is one of the best adaptations of Clive Barker. «The king of Evil» is really creepy and dark horror film with excellent visuals John Charles Buhler that created a truly terrible and bloodthirsty monster. The operator John Metcalfe outstanding but the scenes of massacres taken more or less realistically and without any trash.
Actors in the ribbon play at a decent level. David Dukes counties in the role of Howard looks very organic, creating a vivid and memorable image. Great characters also get the Kelly Piper and Hugh O'Conor.
Composer Colin Towns wrote for the movie the dark and creates the atmosphere of horror soundtrack.
I recommend this tape all the fans of Clive Barker, horror films and trash.
Screenshots:
Download: