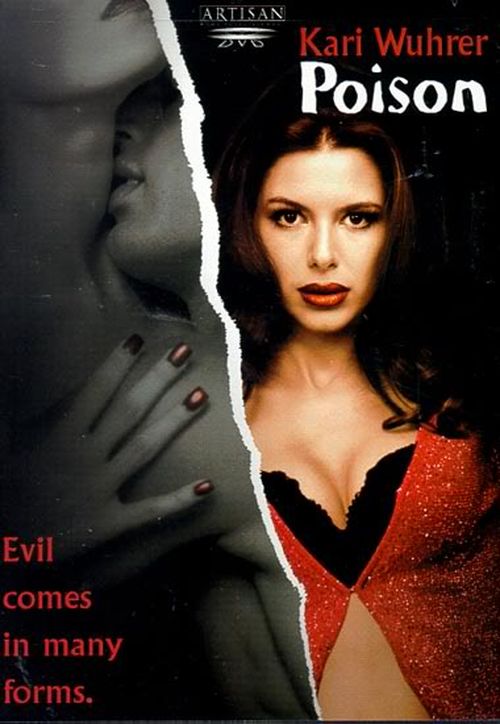 Year: 2001
Duration: 01:32:25
Directed by: Jim Wynorski
Actors: Kari Wuhrer, Jeff Trachta, Barbara Crampton
Language: English
Country: USA
Also known as: Poison, Midnight Vendetta, Vinganca a Meia-Noite, Midnight Vendetta – Rache um Mitternacht, Sex Attraction, Vendetta di Mezzanotte
Description:Wife revenge for her husband's death, destroying innocent family. The consequences are truly tragic… by One sacrifice will not do! Not to get in the way of an angry woman!
Review: Directed by Jim Uaynorski (Lust Connection and Breastford Wives) , shooting this film , not for the first time used a pseudonym in the credits, should be to try to ignore the expected reaction of the upcoming audience due to its " non-serious " works. And I must not mention the effort to create another trash- fun or soft- porn with a silly plot, and build a good psychological thriller – failed. Its base has turned manic- home , closed most of the same family , and her apartment . However , contrary to the considered films entourage conveniently picked up , not openly showing low budget . After all, is especially good degree of screen horror when something sinister is close , close to everyday life, woven into the gray days . And the characters that need to empathize with their prescribed average statistical routine family squabbles and innuendo like "live" .
Here is a man-made Hitchcock human evil destroys the usual routine , using cunning, resourcefulness , put on a mask of benevolence , and obsessive persistence. In addition, the viewer becomes a witness to all the stages of " contamination" of established microcosm of the family , who can say completely random and innocent ! That's the one more interesting move , from which permeates every frame of discomfort to the beat of an alarming almost incessant musical accompaniment . This can be understood on the basis of the plot, where the wife of a fired employee , who committed a suicide in despair and hopelessness of grief , by chance simply chooses the object of his revenge bile woman to hold the post of its possible . Next, she will make every effort to hassle her family and herself , by any means from outright murder knife , staging an accident and ending with cool affectation , playing on the feelings of the victims. However, no regrets or compassion for the children or strangers on the road , it just perfect robot beat every person in their deadly game.
And it's hard not to delve into the horror demonstrated that consists of exponential fragility of human life, when they themselves without knowing it , let in a stranger's house , he implicitly trusting the safety of life . For the wife is only a new employee at home, successfully coping with the master's works, for my husband – you know , " vest " for her daughter – older girlfriend for her son – sexy maid , and for us, the audience – a calculating predator, playing fools do not know of a cat with his arm in a deadly game.
The film does not have any candid shots of murder ( though death will be ), and it scares tools thriller poignantly pierces fatal intrigue in a thoughtful course of things , all the tightening noose tighter. Of course, absolutely necessary human base of the actors and actresses that carry authentic psychology through the screen. And surprisingly all play decently. Particularly to the fore given her role avenging a dangerous woman Kari Wuhrer (Kari Wuhrer), know from various TV series and , to a greater extent, the major roles of " Hellraiser 7 : Army of the Dead" and "Attack of the spiders ." She managed to get used to the monster hidden behind a good-natured smile. And her antagonist , played by Barbara Crampton (Barbara Crampton) is also significant in the role of a busy successful careerists , but untenable mother. Perhaps this actress for excessive needs no introduction , thanks to the famous horror 80 – 90 " Re-Animator ", " From Beyond ", " Freak the castle ", etc.
However, the film can not be attributed to the impeccable work. Definitely a few sex scenes director still overpriced bar with eroticism , making it even abundant , as such stories it is absolutely necessary , but gave her no emotional , and cooler , as if from Playboy . Yes, and manipulative , especially where the change was a noticeable Barbara Crampton an unauthorized her typecasting showgirl in a demonstration of forms, of which the actress has never been observed . But even if we assume this is a controversial point , we can not close our eyes to a number of plot absurdities . First, only a cinematic fiction wife will take the position of a young and beautiful maid , who albeit unwittingly , but still sure to be a time bomb for loyalty to her husband. Jim Uaynorski like an adult, and the most elementary psychology of women did not know. And secondly, the staff officer on the house immediately receive strict observation , if it 's so frank pace in Topeka and short light dresses . Of course, without these two items would have fallen apart a story or most of it , but to keep the reliability of the film claiming to be a realistic thriller .
As a result , the film turned out worth watching , and its plot twists are intriguing – what 's next? Therefore, summing said positive segments , put the picture confidential "four" , and let it not widely visual scope. After all, as the film according to the slogan : «Evil comes in many forms» (« Evil comes in many guises ") , I believe that illustrated the multifaceted Evil transferred dignity as a woman – maniac .
Screenshots:
Download: