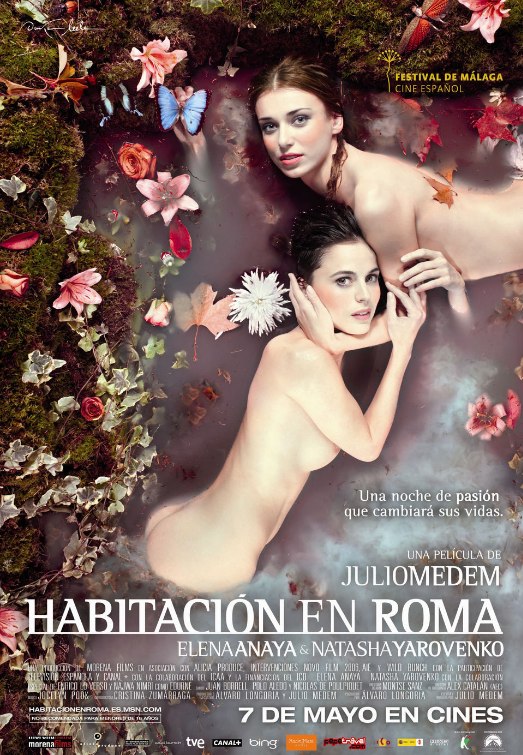 Year: 2010

Duration: 01:43:07
Directed by: Julio Medem
Actors:  Elena Anaya, Natasha Yarovenko and Enrico Lo Verso
Language: Spanish (English subs)

Country: Spain

Also known as:  Habitación en Roma, Комната в Риме, Atesli oda, Domatio sti Romi, Egy éjszaka Rómában, Eine Nacht in Rom, Rom i Roma, Um Quarto em Roma
Description: Russian girl Natasha spend a vacation in Rome, getting ready to marry soon. The night before leaving in Moscow, she met with Alba(Elena Anaya from The Skin I Live In), who is persistently calling her in the hotel. Natasha agrees, and together with the experienced Spanish woman immersing in the study of their sexuality. In between girls share intimate secrets, and in the morning they realized that the feeling between them is stronger than originally planned.
Review: Familiarity with the work of Julio Medem, I did not start with this movie, but also, frankly caught first for erotic motif. Inspection of the same movie to the end, I realized that the erotic in the film, as well as in other films Medem, this is not an end in itself, not a routine sex scenes, as it is in Hollywood. Here is just a beautiful part of the narrative, which creates the necessary emotional background.
As the director managed to build a movie on one sex scenes, but an interesting story to tell the audience! Apparently it can only make a real artist! Medem was able to create a very emotional and life pattern.
After watching the left a bit sad, but it is combined with a desire to make sense of their lives and relationships and people.
Screenshots:
Download: