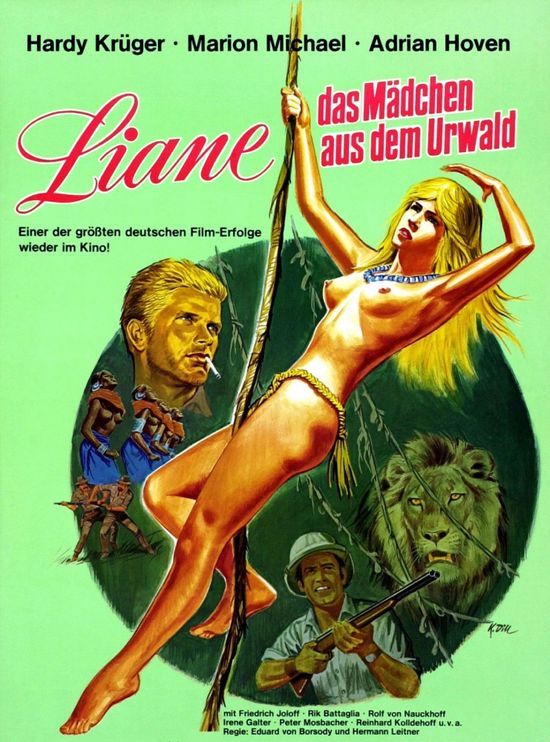 Year: 1956
Duration: 1:30:12
Directed by: Eduard von Borsody
Actors: Marion Michael, Hardy Krüger, Irene Galter
Language: English
Country: West Germany

Also known as: Liane, das Mädchen aus dem Urwald; Liane, A Selvagem;  Liane – pigen fra urskoven; Liane – aarniometsän tytär; Liane, viidakkotyttö; Liane la sauvageonne; Liana, to koritsi tis zouglas; Liane – djungelflickan; Liana, la figlia della foresta
Description: Hope you people like boobs, 'cause there must be 57 of 'em in this movie.
My favorite ones belong to topless white jungle-nymphet Liane, and the rest belong to dozens of tribal African women who spend their time drumming on logs and dancing around VERY closely with each other.
But, no, this isn't some soft-core Misty Mundae-type flick. It's an actual German jungle adventure from 1956, an homage to—no, a ripoff of—the Tarzan story.
Thoren and other German explorers in Africa find the girl living with an African tribe as their queen. They capture her and bring her back to civilization but she escapes, returns to Africa with Thoren, rips off her city clothes and dives into her favorite water hole. Yay!
"Ethnographic expedition discovers in the African jungle, a white girl, well-mannered in native tribe. Radiowave about the discovery in Europe, scientists get the answer that the foundling may be a granddaughter of wealthy ship-owner Theo Melongena, whose daughter with husband and daughter disappeared many years ago on the dark continent. Accompanied by the young scientist Torina, to whom she had become attached, it is sent to Europe. But the joy teo, in his old age granddaughter who found the native, not shared by his nephew, the former from time to time the sole heir of a millionaire…"
Screenshots
Download